When used in conjunction with healthy eating and regular workouts, protein shakes have the potential to help you lose weight, gain muscle and get the nutrition your body needs. Unfortunately, it's also possible to overdose on protein shakes, with short- and long-term negative consequences.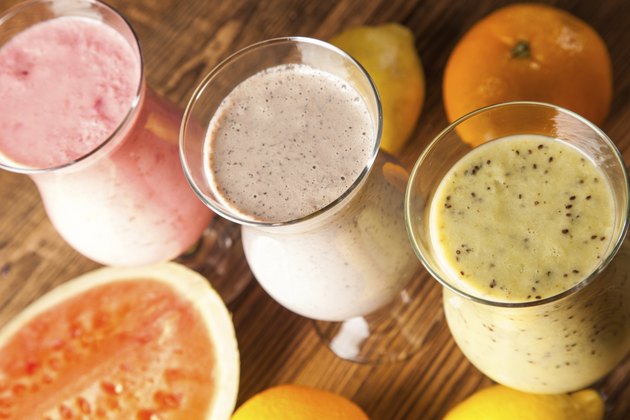 Not Enough Nutrition
Health experts recommend that you eat a wide variety of foods so that your body naturally gets all the vitamins, minerals and nutrients it needs. When you drink too many protein shakes, it can displace other foods that would offer other beneficial nutrients. Furthermore, protein shakes are dietary supplements, which means they don't provide the same protective substances of whole and natural foods. When you choose to drink a protein shake instead of eating a protein-rich bowl of lentils or a dish of Greek yogurt with fresh berries, you're missing out on antioxidants, phytonutrients, dietary fiber and other healthful substances.
Short of Satiating
Although protein promotes feelings of fullness more successfully than either carbohydrates or fats, liquid protein may not be as satiating. Researchers from Switzerland and the Netherlands found that subjects who chewed food thoroughly felt fuller after meals and consumed about 20 percent fewer total calories than subjects who received liquid meals, according to one study published in 2012 in the journal "Obesity."
Packing on Pounds
When a food isn't satiating, you're likely to consume more of it -- and protein shakes are not calorie-free drinks. Many people use shakes to put on weight, with the intention that the weight gained will be in the form of lean muscle. However, if you drink more calories than you burn and don't regularly do strength training exercises, you're more likely to gain fat than muscle. If you don't want to gain a lot of weight -- rather than adding a couple of protein shakes to your regular daily diet -- use a shake as an occasional meal replacement or snack between light meals.
Health Concerns
Protein is an essential nutrient, so consuming a lot of it may not seem like an issue. However, the Physicians Committee for Responsible Medicine reports that even without supplements, most Americans get more than twice the amount of protein their bodies require. Kidneys bear the strain of metabolizing protein's waste products, and following a high-protein diet over an extended period can raise your risk of kidney stones, osteoporosis, kidney disease and even cancer. For the sake of your health, get clearance from your doctor before you make protein shakes a feature of your diet.