Sweet chemicals called steviol glycosides from the leaves of the Stevia rebaudiana Bertoni plant are the main ingredients in stevia-derived sugar substitutes. These products, which are approved for use as food additives by the U.S. Food and Drug Administration, are increasingly common ingredients in soft drinks and other beverages. Stevia sweeteners contain no calories and are roughly 300 times sweeter than sugar.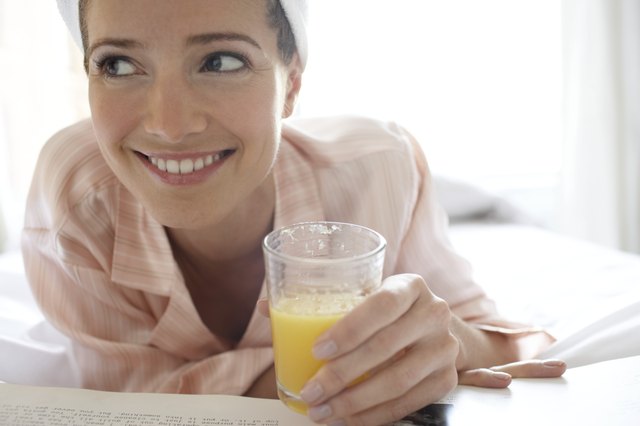 Carbonated Soft Drinks
Several brands and varieties of reduced-calorie or calorie-free carbonated soft drinks contain stevia sweeteners. Some of the brands of stevia-sweetened carbonated soft drinks include Sprite Green, Blue Sky Free, Sans and Zevia. Sprite Green includes a mixture of sugar and a stevia sweetener; it contains 70 calories per 12 oz. serving. The other brands use only a stevia sweetener and contain zero calories.
Flavored Vitamin Water
You may enjoy flavored vitamin water as an alternative to soda or other beverages. Several brands of flavored vitamin water contain a stevia sweetener, including Glacéau Vitamin Water Zero and sugar-free flavors of SoBe Lifewater. Both brands also offer sugar-sweetened varieties, so be sure to check the ingredients.
Energy and Sports Drinks
Some brands of energy and sports drinks contain stevia sweeteners to reduce the number of calories in these beverages. Reduced-calorie energy drinks that contain stevia glycosides include Blue Sky Free Energy, Guru Lite, bHIP and FRS Healthy Energy. Sports drinks sweetened with stevia extracts include Powerade Play, All Sport Naturally Zero and Sugar-free Sportage Lite. Other sports beverage mixes may also contain stevia extracts; check the label.
Fruit Juices and Drinks
Fruit juices and drinks prove a popular use of stevia sweeteners. Manufacturers of these products typically replace some of the natural sugars in fruit juice with stevia extracts to produce reduced-calorie products. Fruit juices and drinks that contain stevia sweeteners include Trop50, R.W. Knudsen Family Light Juice, Hansen's Low-Cal Juice, Old Orchard Cranberry Naturals and Odwalla Light varieties.
Bottled and Canned Tea
Bottled or canned tea may appeal to you for a beverage on the go. Reduced-calorie and calorie-free versions of these products may contain stevia extracts. Examples include Minute Maid Pomegranate Flavored Tea, Honest Tea zero-calorie products, Tazo zero-calorie tea varieties and Steaz Iced Teaz and zero-calorie sparkling green tea.
Dry Beverage Mixes
Dry beverage mixes of different types may contain stevia extracts alone or in combination with other sweeteners or sugar. Check the label to determine the sweeteners in a dry beverage mix. Examples of products that include stevia sweeteners include Crystal Light Pure, Stevita fruit-flavored drink mixes and Celestial Seasonings Sweet Zinger ice tea varieties.