Soup for dinner helps keep your calorie counter numbers down and your satisfaction level up. Whether you buy butternut squash soup or make your own, balance the creamy sweetness of the squash with flavors on the acidic side or with crunchy textures to contrast with the silkiness of the soup. Like all winter squash, butternut scores high on antioxidant beta-carotene and is also a good source for vitamin C, potassium and fiber.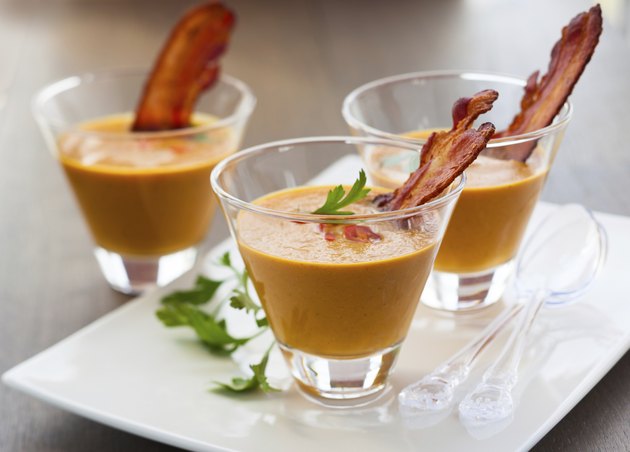 Sandwiches and Quesadillas
Tops chefs surveyed by Karen Page and Andrew Dornenburg for their book "The Flavor Bible," give Parmesan, ricotta, goat cheese, Fontina and Gruyere their highest recommendations for flavors that match butternut squash. Use one of these cheeses and a high-quality, crusty bread to make crispy grilled cheese sandwiches. If you make quesadillas, be sure to keep the tortillas in the pan long enough for them to crisp thoroughly.
Green and Fruit Salads
Pair the soup with green salads that have lots of crunch from radishes, green apples or red cabbage. Use a lemon or mustard vinaigrette to provide acidic balance to the soup. For a fruit salad, add 1 tsp. of spicy, fresh ginger, crisp pears or apples and colorful dried cranberries for flavors and textures that complement the soup. Use either lemon or lime along with honey to dress the salad. Finish the salad with a sprinkling of finely chopped mint.
Grain Salads
A chewy grain salad, made from brown rice, bulgur, kasha or quinoa, provides a hearty contrast to the smooth butternut squash soup and still fits the traditional soup-and-salad combination. Cook the grains ahead of time and serve them either at room temperature or cold from the refrigerator. Add lots of chopped, fresh herbs, diced carrots or cucumbers and toss with a vinaigrette. Right before serving add a handful or two of roasted peanuts or toasted almonds.
Finger Foods
Serve an array of small finger foods alongside the soup and provide salad plates to hold everything. Include purchased items, such as tangy green olives, cheese and crackers or cheese sticks. Or provide simple cut vegetables, bread sticks or flavored cornbread or muffins as side dishes. Mushrooms also work for fall and winter meals. Make small stuffed mushrooms or try a duxelle, which is a mushroom spread with finely minced mushrooms and shallots, for spreading on toasted slices of baguettes.
Pizza
Pizza doesn't have to be a heavy, overly laden, greasy disaster. Instead, serve a thin-crust pizza with just enough toppings to serve as a side dish for the soup. Flavors that complement butternut squash include caramelized onions with good quality black olives and herb-and-cheese pizza with fresh sage, thyme and rosemary. A pizza topped with sauteed mushrooms or a pizza with marinated roasted red peppers also works well.