Normal resting heart rates, or "pulses," for people over 10 years old are between 60 and 100 beats per minute, although very well trained athletes may have resting heart rates as low as 40 beats per minute. As many different factors may affect your heart rate, you should not worry about occasional variations, but if your heart rate is consistently above or below this range, you should consult your physician.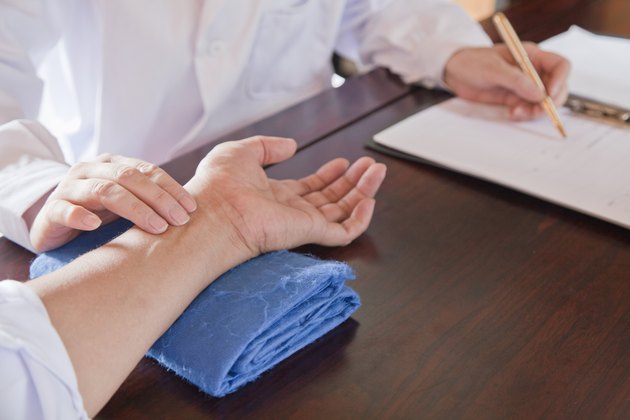 How to Measure Heart Rate
You should measure your resting heart rate when you have been resting for at least 10 minutes; just before you get out of bed in the morning is ideal. The most convenient places on your body to measure your heart rate are at the wrist and neck. To locate the pulse point on your wrist, hold the index and middle finger of one hand together and gently slide them over the area on the inside of the opposite wrist below your thumb until you locate your pulse. On your neck, locate the pulse in the hollow beside your Adam's apple. Using a timer that displays seconds, count the number of beats for a full minute for the most accurate result.
Factors Affecting Resting Heart Rate
Your body size and fitness level affect your heart rate, as do normal individual variations. Other factors that may vary from day to day can also affect resting heart rate, including activity level (for example, having just completed a marathon or triathlon), medications, air temperature, body position and even your emotional state. If you want a reliable estimate of your resting heart rate, you should measure it a few times over the course of a week or two to compensate for minor situational variations.
Maximal Heart Rate
Your maximum heart rate is either approximated based on your age or measured by a maximal exercise test. To calculate your approximate maximum heart rate, subtract your age from 220. The approximate maximum heart rate for a 15-year-old would be 220 minus 15, or 205.
Target Heart Rate
Your target heart rate for exercise is calculated as a percentage of your maximum heart rate. For moderate exercise, aim for 50 to 70 percent of your maximum heart rate, which for a 15-year-old would be 102 to 143 beats per minute, and for vigorous exercise, 70 to 85 percent, which would be 143 to 174 beats per minute. Before starting an exercise program, consult your health care provider.