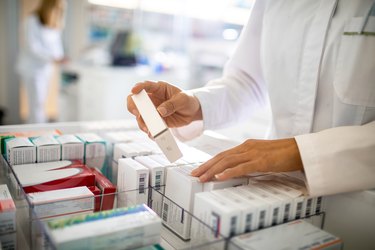 Lifestyle changes such as exercise and healthy eating are a cornerstone of shedding those extra pounds that plague so many Americans.
But the measures don't work for about a third of patients, according to the authors of a 2019 study in ‌Obesity‌. And although many individuals can lose up to 10 percent of their body weight this way, after six months many regain the pounds they had so painstakingly worked to get rid of.
That's why some people may be prescribed anti-obesity medication, commonly called "weight-loss medications." Phentermine is the most commonly prescribed anti-obesity drug in the U.S., according to a March 2021 article in ‌Diabetes, Obesity and Metabolism‌.
Here's more on how phentermine works and what to keep in mind before taking weight-loss medications.
First approved by the Food and Drug Administration (FDA) in 1959, phentermine is basically a stimulant, says Mitchell Roslin, MD, chief of bariatric surgery at Lenox Hill Hospital in New York City.
Phentermine belongs in the class of drugs known as amphetamines and was one-half of the notorious weight-loss duo known as "fen-phen," a combination of fenfluramine and phentermine, popular in the 1990s. Fenfluramine was pulled from the market in 1997 after it was linked to heart-valve damage, according to a September 1997 article in the ‌Lancet‌.
Phentermine works by suppressing the appetite, says Vadim Sherman, MD, medical director of bariatric and metabolic surgery at Houston Methodist, who notes that anyone taking medications or undergoing surgery for weight loss should still make supportive lifestyle changes.
Is Phentermine Available Over the Counter?
Phentermine is available only by prescription and is only supposed to be used for 12 weeks due to the risk of side effects, according to the Mayo Clinic. That said, many obesity specialists agree phentermine can be used longer for optimal treatment, per a September 2022 paper in ‌Obesity Pillars‌.
The FDA has approved the drug for people with a body mass index (BMI) of 30 or more (which is considered obese) or, for people with a BMI of 27 or more (considered overweight) if they have additional risk factors like diabetes, according to the U.S. National Library of Medicine (NLM).
There is only one over-the-counter (OTC) FDA-approved diet pill available (more on that in a moment).
People taking phentermine can lose 3 to 5 percent of their body weight, Dr. Roslin says.
The 2019 study in ‌Obesity‌, which looked at electronic records for about 14,000 adults who had filled prescriptions for phentermine, found that people who took the drug for more than one year kept off more than 7.4 percent of their body weight. The study authors cautioned that doctors should be very cautious in prescribing phentermine for longer periods of time.
There are some side effects associated with phentermine, from the minor (for example, dry mouth) to the more serious, such as anxiety, increased blood pressure and chest pains, per the U.S. National Library of Medicine (NLM).
What OTC Diet Pills Are Similar to Phentermine?
There are no appetite suppressants similar to phentermine available over-the-counter and, in general, experts do not recommend using weight-loss medication without consulting a doctor.
There is, however, one other FDA-approved weight-loss medication that's available without a prescription: Alli. It's a lower-dose version of the prescription weight-loss aid Xenical. Both Alli and Xenical contain the active ingredient orlistat, according to the Mayo Clinic. This over-the-counter (OTC) option is approved for adults 18 and older who have a BMI of at least 25 (considered overweight), per the Mayo Clinic.
Unlike phentermine, which makes people feel less hungry, Alli works by decreasing how much dietary fat is absorbed in your intestines. If you take this medication, about one-fourth of the fat you eat won't be absorbed, and will instead exit your body through bowel movements, according to the Mayo Clinic.
There have been reports of liver damage in people taking the drug, although the link isn't definitive. If you take Alli, you may experience GI-related side effects, such as an upset stomach or more frequent bowel movements, which can ease over time, per the Mayo Clinic.
People who take Alli while also reducing calories and increasing exercise lost an average of 5 percent or more of their body weight within a year, according to the Mayo Clinic.
It's challenging to pin down if over-the-counter diet pills are as effective as phentermine.
That's partially because of how long you can take each option — on it's own, phentermine is typically prescribed for just 12 weeks, while Alli can be taken for longer. That said, if you haven't lost 5 percent of your body weight after a few months, it's likely best to stop taking the OTC pills, since the drawbacks will outweigh the benefits, per the Mayo Clinic.
Both medications have the potential to lead to a loss of up to 5 percent of initial body weight.
What Prescription Diet Pills Are Similar to Phentermine?
Phentermine is quickly being eclipsed by newer weight-loss medications which deliver significantly more weight loss, Dr. Roslin says.
Ozempic (generic name semaglutide) is the most well known and belongs to a class of medication known as GLP-1 agonists. The FDA approved it to treat type 2 diabetes in 2017 and, in 2021, approved it an increased dosage under the name Wegovy for weight loss for people with or without diabetes. This medication effects the parts of the brain which regulate appetite and food intake.
The largest trial to study its effects found that participants lost an average of 12.4 percent of their initial body weight while taking Ozempic, per the FDA. It may come with gastrointestinal side effects.
"Ozempic works way better than anything we've ever had," Dr. Roslin says. "It's on back order all over the world." Other GLP-1 agonists, such as liraglutide (Victoza, Saxenda), all of which are given by injection, can also result in weight loss.
Some other prescription weight-loss medications include:
‌Qsymia‌ is a combination of phentermine and topiramate, an anti-seizure drug. It was recently approved for obese patients aged 12 and older, per the FDA. Experts aren't sure how the drug works but it may suppress the appetite. People taking Qsymia seem to lose more weight than those taking either medication alone.
‌Xenical‌ is the higher-dose version of the OTC pill Alli and is typically prescribed for people who have obesity or overweight and also have risk factors like high blood pressure or high cholesterol, per NLM. Like Alli, it needs to be taken within an hour of eating a meal that includes fat and it can involve gastrointestinal side effects like oily stools.
‌Naltrexone-bupropion‌ in combination produce weight loss, per the National Institute of Diabetes and Digestive and Kidney Diseases. The combination part is important — naltrexone does not spur weight loss on its own and bupropion only results in modest weight loss, according to the NLM. Both are psychiatric medications used for substance abuse (naltrexone) and depression or tobacco addiction (bupropion). However, the dosages in this combination medication are lower than the doses used to treat psychiatric conditions.
All weight-loss pills, whether over-the-counter or prescription, can cause side effects.
For instance, because phentermine is an amphetamine, there is a concern it may be addictive. A February 2014 study in the ‌International Journal of Obesity‌ of people taking phentermine for weight loss did not see addiction as a side effect. However, all medications with potential for addiction need to be taken cautiously.
Phentermine can also raise blood pressure and arrhythmia, Dr. Sherman says. Side effects of weight-loss drugs can be nausea and other gastrointestinal issues as well as pancreatitis, he adds.
All of these drugs can interact with other drugs and can be dangerous for pregnant people and certain other groups. That's why it's important to take them with the counsel of a doctor.
"Anyone on a weight loss pill should be monitored by a doctor," Dr. Roslin says. "Any time you lose weight you're going to lose muscle mass. Postmenopausal women can also lose bone and develop osteoporosis. The whole body works together. Skinny does not mean healthy."
What to Consider Before Taking OTC or Prescription Diet Pills
Remember, "weight-loss medications" are actually anti-obesity medications. They are intended to help people who need metabolic support to lose 5 to 10 percent of their body weight, not for people who want to lose small amounts of weight.
Typically medications are only used after a patient has tried to lose weight with diet and exercise, Dr. Sherman says. In any case, patients who take weight-loss pills should continue with lifestyle measures.
One of the main drawbacks of weight-loss drugs is that they can stop working as soon as you stop taking them and most are only recommended as short-term aids.
"The patient has very good weight loss but if they change to a placebo, their weight starts to rise," Dr. Sherman says. Weight regain can happen after longer term use and, except for phentermine, many weight-loss medications are expensive.
"People who struggle with increased weight and have been doing so for a very long time for the most part need some kind of a tool that is as permanent as possible," Dr. Sherman says.
Obesity is a complex disease that can make it difficult to lose excess body weight. Medication is just one of the many tools a personal struggling with weight may need. It's important to seek professional help to get the personalized tools that may work for you on your weight-loss journey.