That uncomfortable swollen sensation in your abdomen known as bloating is one of the most common symptoms of intestinal gas, according to the National Digestive Diseases Information Clearinghouse. It can also stem from premenstrual syndrome, food intolerance and disorders such as irritable bowel syndrome, hypothyroidism, Crohn's disease and colitis. In addition to treating underlying medical conditions, a healthy diet, limited in certain foods, may help manage your symptoms. High-fat, greasy foods are one of numerous dietary culprits.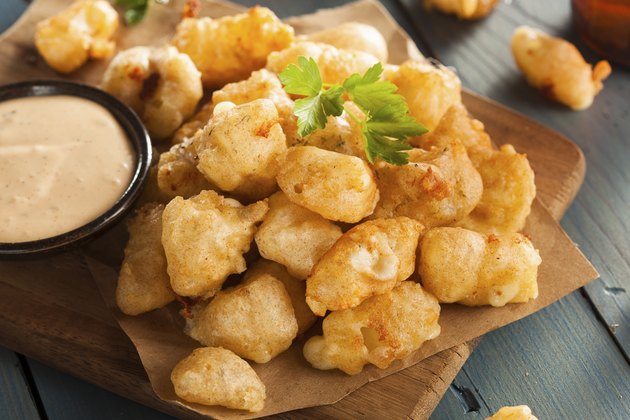 Relationship
High-fat foods delay stomach emptying and increase a sense of fullness in your abdomen. Greasy foods, including cheeseburgers, bacon, french fries and fried pastries, are particularly high in fat. If you have irritable bowel syndrome, Crohn's disease or colitis, greasy foods can trigger flareups, which may involve abdominal cramping, diarrhea or bloating. Many greasy foods, including fried chips, meats and processed cheeses, also are high in sodium. Sodium-rich foods also can cause or worsen bloating associated with water retention.
Behavioral Factors
The way you eat greasy and non-greasy food can also contribute to bloating. Swallowed air, for example, is one of the main causes of gas symptoms, according to the National Digestive Diseases Information Clearinghouse. If you eat quickly, you're more likely to swallow excessive amounts of air. Eating quickly also makes it easier to overeat -- another cause of bloating. Eating during times of stress or anxiety may cause similar effects.
Other Food Culprits
Salt is the primary source of sodium, which affects fluid levels in your body. Although some sodium is necessary, consuming too much salt can worsen fluid retention. Particularly salty foods include canned goods, potato chips, pretzels, french fries and processed meats and cheeses. Other foods and drinks that may increase bloating include baked beans, hard candy, carbonated beverages, chewing gum and gaseous fruits and vegetables, such as broccoli, baked beans, Brussels sprouts, cabbage, peaches, apples and pears.
Suggestions
If your symptoms are associated with premenstrual syndrome, eliminate suspected food allergens, such as wheat, dairy products and soy. To cut back on greasy foods, replace fatty meats with broiled or baked fish. As valuable sources of omega-3 fatty acids, cold-water fish, such as salmon, mackerel and halibut, may help reduce inflammation. Instead of potato chips or french fries, snack on fresh fruits and vegetables or unsalted whole grain foods, such as air-popped popcorn seasoned with natural herbs or a whole grain tortilla with natural peanut butter. Put your fork down between bites and eat in a relaxed atmosphere to slow your eating pace. If your symptoms are severe, seek professional help.