When your digestive system is moving at the pace of a snail, you'll know it. As your system starts getting backed up, you'll probably have some belly cramping, your clothes might start feeling more snug and you may go for days without having a bowel movement. Generally, slow digestion should resolve on its own, but if you're experiencing discomfort for an extended period of time, it could be a sign of a chronic problem.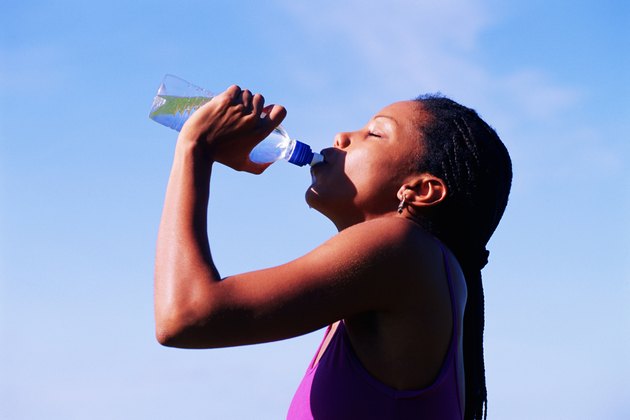 Too Much or Too Little Fiber
Fiber is nature's way of keeping you regular. This indigestible carbohydrate sweeps through your bowels, pushing out every piece of waste that sticks to your intestinal tract. But if you have too much fiber, it can form a blockade, making it difficult for waste to move through, so everything bunches up. On the flip side, if you don't have enough fiber in your diet, all that waste can just pile up, since that fiber isn't around to move things along. You need 14 grams of fiber for every 1,000 calories, "Dietary Guidelines for Americans, 2010" points out. For an average 2,000-calorie diet, aim for around 28 grams total. Don't stray too far off from this recommendation, or you could experience some of these bowel issues.
Drink Up
One of water's jobs in your body is lubricating your intestinal tract, creating a soft, pliable structure for waste to travel through. If your water intake is lacking, though, food may have a hard time squeezing by. Plus fiber needs water to do its job. Even if you're getting the right amount of fiber, without drinking enough water, that fiber could back you up. Men should drink 3.7 liters each day, while women require 2.7 liters, the Food and Nutrition Board of the Institute of Medicine suggests. That's about 125 ounces and 91 ounces, respectively. Not all of your fluid has to come from drinks either. Food moisture makes up roughly one-fifth of your water recommendation.
Intestinal Disorders
If you have an underlying intestinal disorder, your bowels aren't working correctly, which could slow down digestion. Crohn's, diverticulitis and irritable bowel syndrome are just some of the chronic conditions that can affect the flow of food and waste through your digestive tract. If you frequently have hard stools that are difficult to pass, have fewer than three stools a week, have random episodes of diarrhea or often have abdominal cramping associated with moving your bowels, it's time to make an appointment with your doctor. While there is no cure for these disorders, changing your diet can improve digestion, so you can live with the condition and have minimal side effects.
Food Allergies
Having a food allergy can wreak havoc on digestion. Once that problematic food enters your digestive tract, it can make everything come to a standstill, leaving you constipated. If you're feeling tired all the time, experience mouth swelling, notice rashes on your skin or have blood in your stools, it could be a warning sign of a food allergy. Wheat, eggs, shellfish, milk and tree nuts are just a few of the well-known allergens. But because a severe allergy can affect your breathing, sending you into anaphylactic shock, you should see your doctor right away to get an exact diagnosis and immediately avoid the food you suspect is causing problems.