Training your leg muscles makes gaining total-body muscle mass easier. Leg exercises like barbell squats, leg presses and dumbbell lunges stimulate an increase in the hormone testosterone as well as other growth hormones, helping pack more lean muscle mass onto your entire physique. Of course, you need to train your upper body too, to really maximize that growth.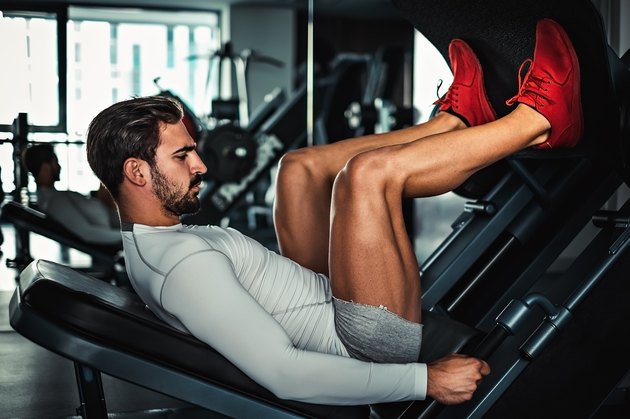 Anatomy
The quadriceps, hamstrings, hip adductors and calves are the main muscle groups in the legs. Since the legs contain some of the largest muscles in your body, it's critical to develop mass in these muscles to bulk up quickly. Ignoring your legs and training only the back, biceps, triceps and shoulder muscles won't produce as much testosterone or growth hormone as a full-body resistance-training workout.
Working your upper body and neglecting your legs can also create a muscle imbalance between your upper and lower body, hampering gains throughout your body and increasing your risk of injury.
Compound Movements
Compound exercises like squats, lunges and leg presses focus on the leg muscles. Training with compound movements helps you break down multiple muscle groups with a minimal number of exercises, increasing your overall hypertrophy, or muscle growth. Do three sets of 10 repetitions with a heavy weight, for each exercise, to bulk up. Rest for 90 seconds between sets to allow ample recovery time.
Perform compound muscles for the upper body on non-leg training days. These include moves such as the chest press, pull-up, and triceps dips.
Diet
Eating a diet rich with complex carbohydrates and lean proteins can pack on muscle mass quickly. Cut out sugary, fatty foods like cookies or fast food, and replace them with oatmeal, whole grains and lean proteins like chicken breast or salmon. Complex carbohydrates give you energy for your weight-training sessions, and proteins help supply your muscles with critical amino acids that foster growth.
Tips
Avoid overtraining by working out your legs and other muscle groups no more than twice per week. Your muscles are broken down during workouts, and they recover and grow larger when you're away from the gym. Rest at least 72 hours between workouts that utilize the same muscle groups. This allows your body to fully recover between workouts, optimizing your muscle growth.
Advanced trainees may choose to work each muscle group just once per week. But, the weekly session should involve very heavy weights and tax your system completely so you fell like you need a full week of recovery.