Cut from the top of the sirloin, spoon roasts are filled with flavor and are one of the healthier cuts of red meat. The American Heart Association named the boneless top sirloin roast as one of the three types of beef that are low enough in saturated fat and cholesterol to carry the heart-check mark. Spoon roasts fare particularly well with a high/low cooking method, in which high heat sears the roast, which is then cooked for a long period of time at a very low temperature. Because of their rich flavor and budget-friendly price, many stores use spoon roasts for their deli roast beef.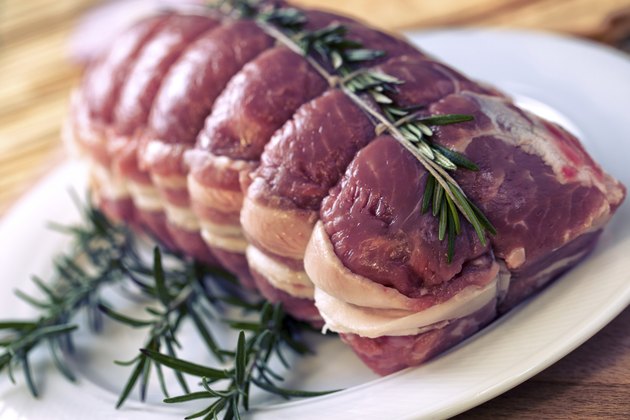 Step 1
Coat the roast with olive oil and season liberally with salt and pepper. Cover the roast with plastic wrap and set in the refrigerator for 12 to 24 hours.
Step 2
Preheat the oven to 425 F.
Step 3
Remove the roast from the refrigerator, discard the plastic wrap and set on a rack in a roasting pan.
Step 4
Place the pan in the oven and cook for 15 minutes. Reduce the oven temperature to 225 F, and continue to cook the roast for 45 minutes to 1 hour per pound, or until the internal temperature of the beef hits 140 F for medium-rare.
Step 5
Remove the roast from the oven, cover and allow it to rest for 15 to 20 minutes before serving.
Things You'll Need
Spoon roast

Olive oil

Kosher or sea salt

Coarsely ground black pepper

Plastic wrap

Roasting pan with rack

Instant-read thermometer
Tip
Experiment with different seasonings for your roast. Rub some freshly chopped herbs or garlic on it before refrigerating, marinate it in some red wine or cover the roast with onion slices or leeks before baking.
Warning
Although professional chefs may tell you that beef cooked to 140 F is rare, the U.S. Department of Agriculture's Food Safety and Inspection Service cautions against eating roast beef cooked to less than 145 F. If you remove a roast from the oven when it reaches 140 F, it will cook an additional five degrees during the resting period to reach a safe serving temperature.