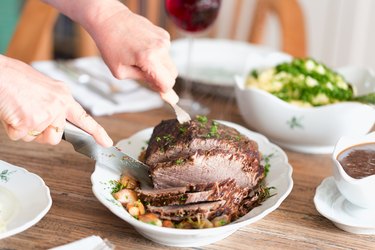 Roast beef makes for both an impressive dinner dish that's a guaranteed crowd-pleaser as well as tasty leftovers to enjoy all week. But it all depends on how you cook the hearty cut of meat.
Claudia Sidoti, the principal chef at HelloFresh, has crafted a simple, easy-to-follow roast beef recipe. But before you begin, bear in mind this dish requires a little bit of extra time, so prepare accordingly if you're expecting guests!
Bone-in rib roast: A bone-in roast provides maximum flavor and the best visual on a plate, according to Sidoti. Opt for a cut of beef with a nice layer of fat to add juiciness.
Spices: Grab garlic, fresh rosemary, fresh thyme leaves, paprika, kosher salt and fresh pepper.
Extra-virgin olive oil
Optional: Red wine and beef stock.
‌Preheat oven:‌ Preheat the oven to 450°F.

‌Prepare the meat:‌ In a small bowl, combine the oil, garlic, thyme, salt, rosemary, paprika and pepper and rub it all over the roast. Then, place the roast in a pan with a roasting rack.
‌Roast the meat:‌ Roast the meat for 15 minutes and then reduce the heat to 325°F. Roast for an additional 45 minutes to 2 hours, depending on how you like your meat cooked. Add some water, beef stock or even a splash of red wine to the pan to loosen up the juices.
‌Serving:‌ Remove the roast from the oven and let it rest for 15 to 30 minutes before serving. Sidoti loves a medium-rare roast sliced very thin — which is especially good for sandwiches!
Give Your Dish a Seasonal Twist
There are a few ingredients and sides you can add to your roast to give it a fall- or winter-inspired twist that's perfect for cold-weather days. Seasonal vegetables like Brussels sprouts, root vegetables, pumpkin or squash can be roasted right in the same pan, making for a nice mix of flavors. Or add some fennel and apples for a sweeter profile that works well with this cut of meat.
Mushrooms are another great side dish that you can pair with a fall roast, Sidoti says. Mushrooms are abundant in the fall and can also be roasted right alongside the beef or sautéed on their own and served on the side. Sidoti recommends getting a mix of wild mushrooms and seasoning them with fresh garlic and herbs.