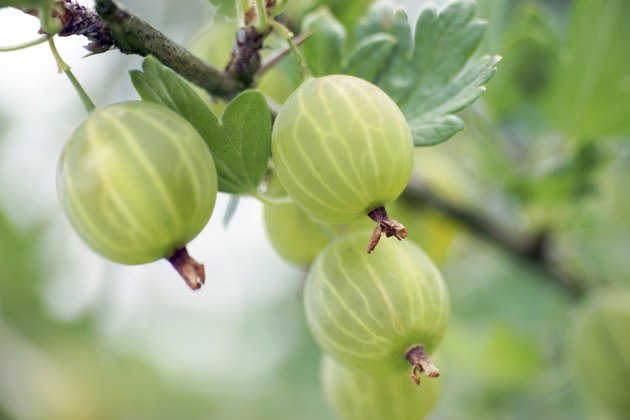 Gooseberries are a summer delight, coming in green, red and blonde varieties that pack a sweet-tart punch in their small size. Similar in shape, size and color to large grapes, these midsummer fruits are best eaten raw at the peak of ripeness, or cooked with sugar to enhance their distinctive taste and lend complex flavors to baked goods, jams, chutneys and sauces.
Raw Gooseberries
Eat gooseberries fresh if they're sweet and ripe. While firmer early- and late-season varieties work well for cooking, choose gooseberries that yield to touch for eating raw. These berries will have more sugar and less tartness, making them a unexpected inclusion in a summer fruit salad, with a dab of whipped cream or perfect for eating by the handful as a refreshing treat. Gooseberries for fresh eating are best in July and August. Choose vine-ripened softer varieties when buying gooseberries for fresh eating.
Gooseberries for Dessert
Gooseberries' distinctive flavor holds up well in a variety of baked desserts. Most commonly appearing in summer's chilled gooseberry fool, gooseberries require little cooking for this simple dessert made of sugar, gooseberries and yogurt. Cook and mash gooseberries with sugar and use them in any of your favorite desserts, including pies, crumbles, cobblers or tarts for a refreshing twist on classic desserts. Use gooseberries alone in your desserts to enjoy their complexity or mix them with your favorite summer fruits for sweeter combinations that shine.
Gooseberry Sauces
Gooseberry sauces are easily made with gooseberries, sugar and herbs. Pairing well with red meats, pork and fatty fishes, gooseberry sauces complement many diverse meals. Gooseberry sage sauce is used as an accompaniment for various pork cuts, while mackerel pairs well with a gooseberry cream sauce. Experiment with different sauces to go along with your meals while gooseberries are in season, or freeze some to use throughout the year.
Gooseberry Jams & Chutneys
Gooseberries are perhaps most famous for their role in jams and jellies. The sweet and tart berry creates a spectacular single fruit jam, and is also commonly combined with other seasonal fruits to create such varieties as gooseberry currant jam and strawberry gooseberry jam. Its tartness also makes it a viable chutney ingredient, used raw in Indian chutney recipes as well as contemporary ones. Mixed with coconut, chilies and curry leaves, serve a sweet-tart chutney alongside meat and rice for a sweet, spicy and savory combination.