You may wish to take many different vitamins and minerals in the form of supplements. Some multivitamins contain both folic acid and calcium. There's no reason that you shouldn't take these two micronutrients at the same time, and both can benefit you -- particularly if you're a female of reproductive age or pregnant.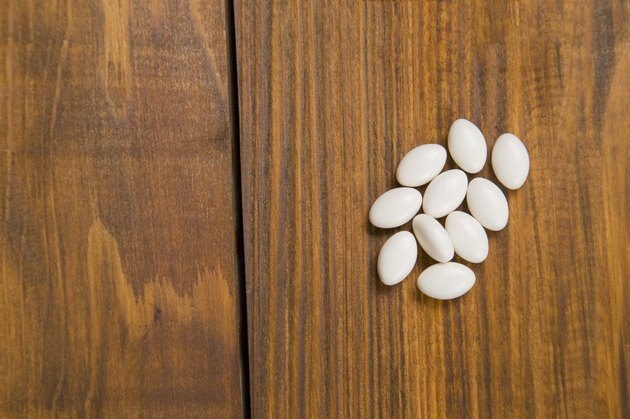 Folic Acid
Folic acid is one of the B vitamins; specifically, it's vitamin B-9. You use this vitamin for a variety of things, one of the most notable of which is producing red blood cells. Deficiency can lead to anemia, or low red blood cell count. If you're a female of reproductive age, folic acid is particularly important as part of your diet or as a supplement. This is because developing embryos need folic acid to prevent some birth defects.
Calcium
Calcium is generally best known for its role in maintaining the skeletal system, but it has many other important functions in the body besides that. In her book "Human Physiology," Dr. Lauralee Sherwood explains that calcium is one of the minerals you need for cell-to-cell communication and to allow muscles to contract. If you're calcium deficient, your body will pull the mineral out of the bones to make up the deficit.
Folic Acid and Calcium
There's no medical reason that you shouldn't take folic acid and calcium together, and in fact, many multivitamin and mineral supplements combine the two. The idea that you shouldn't take these two together is a misconception likely based on the fact that you shouldn't take calcium and iron -- another common pregnancy supplement -- together, because each interferes with the absorption of the other. It's best to take iron and calcium at different times of day.
Quantities
If you're a woman of childbearing age, you should get 1,000 mg of calcium each day, and 400 mcg of folic acid each day, explains the American Pregnancy Association. Many prenatal vitamins will have more than the 400 recommended micrograms of folic acid in them, but they rarely contain all the calcium you need; this is mostly because prenatals contain iron. Multivitamins that don't contain iron may not have your full daily requirement of calcium because calcium makes pills quite big and difficult to swallow. You may need a separate calcium supplement if you rely on a multivitamin or prenatal for your micronutrient needs.