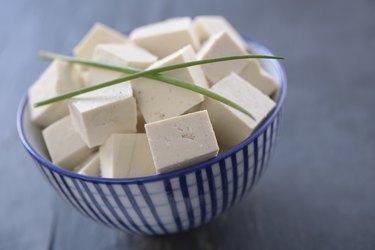 Shaolin monks are Chinese Buddhists who practice Shaolin kung fu within the temple. Renowned for their martial arts skills, the monks follow a celibate, deeply religious lifestyle that includes a vegetarian diet, often referred to as the Shaolin Temple diet. The diet conforms to the eating patterns recommended by nutrition experts, including the Harvard School of Public Health. The Academy of Nutrition and Dietetics says that following a vegetarian diet such as that of the Shaolin monks may lower your risk of diabetes, hypertension, heart disease and cancer.
Beans for Breakfast
According to Sifu Wang Bo, a Shaolin monk who has lived within the Shaolin Temple since the age of 8, the monks' daily breakfast consists of a soup known as Eight Treasures. The soup contains eight different types of beans, grains and nuts: red beans, pine nuts, walnuts, peanuts, rice, hawthorns, Chinese red dates and millet. These ingredients are cooked in plain water. The monks believe eating the soup daily contributes to longevity and organ health.
Produce-Heavy Lunch
Lunch at the Shaolin temple is served at 11:30 a.m. and consists of tofu and rice paired with a mixture of five or six different types of raw or cooked vegetables. The monks do not use garlic, ginger, onions or any type of spice when preparing their meals, believing that spicy, hot or strong-smelling foods excite emotion. Water and tea is not served with meals in order to improve digestion, says Bo. If you are trying to replicate a Shaolin-style lunch at home, choose brown rice for additional fiber and avoid deep-frying the vegetables and tofu in favor of steaming or stir-frying with minimal oil.
Carbohydrates at Dinner
The Shaolin monks have a carbohydrate-rich dinner of noodles and bread. The most commonly consumed noodles in China are rice, wheat and starch noodles. Bo says the Shaolin Temple typically serves bread made from black rice flour or yellow wheat flour. Alcohol in any form is strictly forbidden for the monks. Try replicating a Shaolin dinner with 100 percent whole-grain noodles and whole-wheat bread. If you do not consume gluten, look for bread and pasta made from brown rice flour.
Shaolin Warrior Monks
Shaolin monk Shi Dejian told Kung Fu Magazine.com that there is one class of monks who are allowed to consume animal products like meat. Known as Shaolin warrior monks, they train in martial arts but do not take the vows of a Buddhist monk and are not required to be vegetarians, Deijian says. When Chinese cuisine includes meat, it is mainly in small amounts to enhance the flavor of the dish, not served in large portions as the focus. Choose skinless poultry, fish, shellfish and lean cuts of beef and pork.