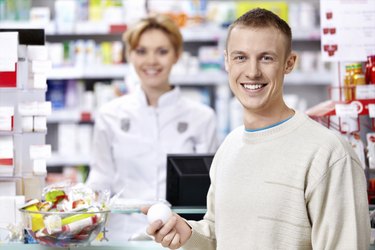 One a Day is multivitamin product marketed and distributed by Bayer Healthcare LLC. Bayer produces several lines of multivitamins targeted to women and men in different age groups. The men's One a Day formula uses the Men's Pro Edge trade name. Bayer also manufactures specialty One a Day multivitamins for women and men over 50 years old, for menopause, for the prenatal period, for teenagers and to enhance energy. As with any multivitamin product, you should speak with a medical professional prior to taking the One a Day Pro Edge Vitamins
Contents
One a Day Men's Pro Edge contains a variety of fish oils including oils from cod, haddock, cusk, pollock, hake, flounder, redfish and sole. Additionally, this product contains various vitamins in quantities that meet or exceed the Food and Drug Administration's daily recommended values. These vitamins include chromium, vitamin A, manganese, vitamin C, copper, vitamin D, selenium, vitamin E, zinc, vitamin K, magnesium, vitamin B1 , calcium, vitamin B2, pantothenic acid, niacin, biotin, vitamin B6, vitamin B12 and folic acid.
Benefits
According to Bayer, the One a Day Pro Edge Vitamins provide men under 50 high levels of the vitamins, minerals and fatty oils that support physical activity. Specifically, this product contains a high level of magnesium that supports healthy muscle function, antioxidants including vitamins A, C, and E and B vitamins that help your body to convert food into usable energy.
Details on the Content
Magnesium is a mineral required by your body for adequate glucose metabolism and the synthesis of nucleic acids and proteins. Magnesium also supports muscle contraction, nerve impulse transmission and helps your body to maintain an electrical balance. Antioxidants help your body neutralize the effects of free radicals that can cause damage to your cells. B vitamins play a principal role in your cells' metabolism. Additionally, B vitamins help to keep your skin healthy, enhance your immune system and play a critical role in cell growth.
Side Effects of B Vitamins
The One a Day Pro Edge multivitamins contain high doses of the B complex vitamins. In certain individuals B complex vitamins can cause an adverse reaction at high does. These side effect include allergic reactions, dilation of your blood vessels, flushing of your skin, itching, tingling and throbbing in your head. Should you experience any side effects after consuming the One a Day Pro Edge vitamins, discontinue use of the product and consult a medical professional.