Fatty fish is an important component of a healthy diet. Fatty fish contains high amounts of omega-3 fatty acids, especially eicosapentaenoic acid, or EPA, and docosahexaenoic acid, or DHA. The American Heart Association recommends healthy adults consume a variety of fatty fish at least twice a week. In addition to healthy fat, mackerel is also a good source of protein and various vitamins and minerals.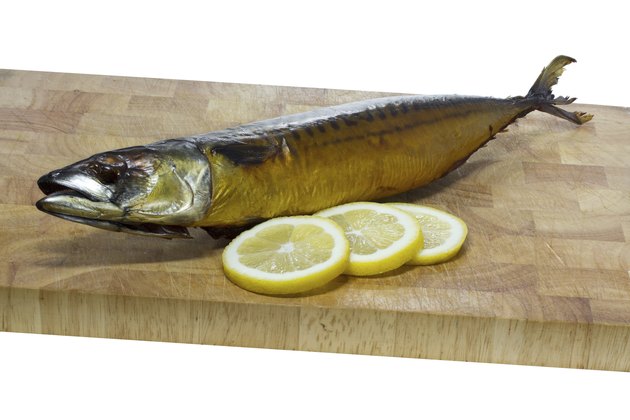 Calories
Due to a high protein and fat content, mackerel has a significant amount of calories. One fillet -- about 3 oz. cooked -- contains 230 calories. Mackerel does not contain any carbohydrates.
Protein
Mackerel is a great source of protein. One fillet of mackerel contains 21 grams of protein. Protein contains amino acids and is necessary in the diet for muscle growth and maintenance.
Fat
One serving of mackerel contains 16 grams of fat -- 4 grams of saturated fat, 6 grams of monounsaturated fat, 4 grams of polyunsaturated fat. Each serving of mackerel also contains 2,991 milligrams of omega-3 fatty acids.
Vitamins
Mackerel contains high amounts of vitamin D -- 101 percent of daily value; riboflavin -- 21 percent of daily value; niacin -- 51 percent of daily value; vitamin B-6 -- 22 percent of daily value; and vitamin B-12 -- 163 percent of daily value. Vitamin D is important for bone and teeth health while the B vitamins, such as riboflavin, niacin, vitamin B-6 and vitamin B-12, aid in energy metabolism.
Minerals
In addition to being high in vitamins, mackerel is also high in the minerals magnesium -- 21 percent of daily value; phosphorus -- 24 percent of daily value; and especially selenium -- 71 percent of daily value. Magnesium is used in various chemical reactions in the body, phosphorus plays a role in cell metabolism and selenium helps with enzyme functions.
Grilling Considerations
Carcinogens can form on the surface of the fish during cooking. To minimize this, don't overcook fish and avoid excessive heat. Also, oily fish such as mackerel typically don't require additional oil to prevent sticking, but if oil is used as a marinade, consider the additional calories added to the meal.
Mercury Content
Consumption of fatty fish has become a more controversial issue because of an increased risk of mercury poisoning. While fatty fish do contain small amounts of mercury, most individuals do not have to worry about eating too much mercury. The Food and Drug Administration and Environmental Protection Agency recommend that fatty fish intake be monitored for pregnant women and young children. Fish with especially high mercury content include shark, swordfish and king mackerel.