Rice noodles are called "pad" in Thailand, "kaho" in Laos and "bun" in Vietnam. Central to Southeast Asian cuisine, rice noodles contain flour made from the most abundant grain in the region. The translucent noodles are often cooked with the meat, vegetables or broth, as rice absorbs flavor extremely well, resulting in a consistent flavor throughout the dish. Making your own rice noodles at home is not unlike the process of making Italian pasta, substituting rice flour for wheat.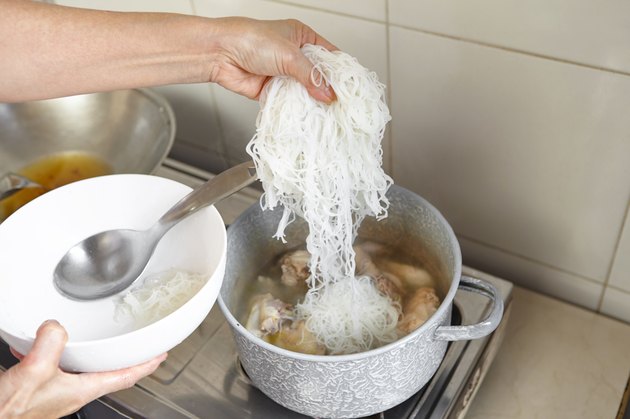 Step 1
Combine the rice flour, cornstarch, tapioca flour and salt in a mixing bowl with a wooden spoon or whisk to combine the ingredients.
Step 2
Pour the water and 3 tbsp. of canola oil slowly into bowl, whisking to form a batter. Let the mixture sit at room temperature for 20 minutes.
Step 3
Brush an 8- or 9-inch skillet with canola oil and heat it on medium-low.
Step 4
Whisk rice batter to mix in any settled ingredients. Ladle enough rice batter into the skillet to cover the bottom of the pan. Turn the skillet to coat the pan evenly.
Step 5
Cover the pan and cook the dish for up to six minutes, until the batter has formed a solid crepe-like layer on the pan's bottom.
Step 6
Remove the rice sheet from the pan using a spatula. Be gentle to prevent tearing. Set the rice sheet on a baking sheet lined with wax paper.
Step 7
Repeat steps 3 to 6 until the rice batter is exhausted.
Step 8
Use a pizza wheel or 10-inch chef's knife to cut each sheet into eight to 10 noodles.
Step 9
Dry the noodles on the wax-paper sheet in a refrigerator for up to one day before storing.
Things You'll Need
Wire whisk

Wooden spoon

1 cup rice flour

1 cup cornstarch

1/2 cup tapioca flour

1 tsp. salt

6 cups water at room temperature

Large mixing bowl

8- or 9-inch nonstick covered skillet

4 tbsp. canola oil, divided

Ladle

Baking sheet lined with wax paper

Pizza wheel or 10-inch chef's knife
Tip
Rice flour is available at specialty Asian grocery stores or higher-end supermarkets. Homemade rice noodles will remain fresh for five days when refrigerated, or for four weeks when frozen.