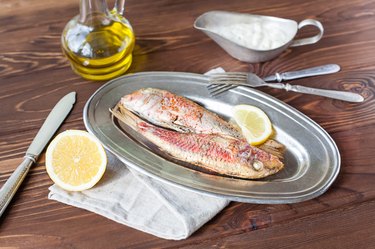 Mullets are commercially fished off the coastal waters of Florida. The body of the fish is long and stout and bluish colored on top with silver sides. Mullets have an average weight of about 2 to 3 pounds, but some have been caught weighing in at more than 6. The two most common species are the striped, or black or gray mullet, and the white or silver mullet.
Cooking Mullet
Choose mullets that are not separating but have a firm flesh with no discoloration. The fish should smell like the ocean. As a rule of thumb, for every inch of thickness, cook mullet for about 10 minutes at 400 to 450 degrees Fahrenheit. Add an extra five minutes of cooking time if you are preparing the mullet in sauce, foil or parchment. There are no best ways to cook mullet, only those ways that appeal to your taste. When mullets are cooked, they appear opaque and are flaky.
Pan-seared Mullet
Pan searing, done right, is a healthy choice for most fish. Use just enough oil, about 2 tbsp. of olive, canola or vegetable oil, to smear your skillet, Warm your pan to medium. Season the mullet fillets with a bit of salt and pepper and lemon juice. Lightly dredge each mullet fillet in flour and place each in heated oil to sear. Cook each side about three to four minutes or until flaky. Serve the mullet with lemon wedges.
En Papillote
A healthy and delicious way to bake mullets is in packets of parchment paper, called en papillote. This method cooks the fish by trapping the steam. Wrap the mullets in the parchment with a sprinkle of lemon juice, salt and pepper. Seal the paper and place it in the oven on a pan. It will take about 10 to 15 minutes at 400 degrees Fahrenheit. An internal thermometer should read 145 degrees for the fish to be done. The flesh will be flaky and opaque.
Boggy Mullet Chowder
Boggy Bayou Mullet Festival in Florida offers a tasty chowder recipe: Fry ½ lb. of chopped salt pork in a Dutch oven until lightly browned. Add two chopped onions, 1 cup of diced celery, three minced garlic cloves and one chopped green pepper. After cooking for five or 10 minutes add one large can of tomatoes, one can of tomato paste, 2 tbsp. of Worcestershire sauce, 1 tsp. of hot sauce, 1 tbsp of salt and 2 tsp. of black pepper. Cook 10 more minutes and add 1 pint of boiling water, eight potatoes cut into chunks and two large carrots, sliced. When the potatoes are nearly done, add 3 ½ lb. of mullet fillets and simmer until the fish are flaky. This recipe serves six to eight people.