Antibiotics are medications used to fight infections, particularly if the infections are bacterial. Some herbs and foods, including garlic, have natural antibiotic properties. However, garlic and other herbs should never be used as a substitute for antibiotics prescribed by your doctor, as untreated infections can be very dangerous.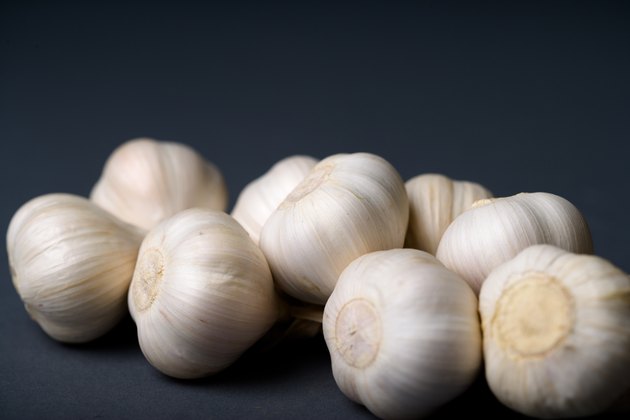 Garlic
Garlic is a plant that is often used as part of cooking, but it can also be consumed in supplement form. The main compound with antibacterial properties found in garlic is allicin. Allicin is actually formed when garlic bulbs are crushed, which triggers the conversion of alliin in the garlic to allicin. Allicin is also responsible for the distinctive odor of garlic. Allicin may also be able to be effective against some parasites.
Evidence
Many of the chemicals in garlic have been studied as potential antibiotics. One study, published in a 2011 issue of "Applied and Experimental Microbiology, used as variety of biochemical techniques to examine how some of the compounds in garlic interacted with bacteria and found that garlic was effective against the bacteria C, jejeuni. Another study, published in the "Journal of Medicinal Food," found that allicin was able to kill some pathogenic oral bacteria, such as S. mutans and P. gingivalis.
Dosing
There is no set "dose" of garlic that equals an antibiotic. Most scientific studies have studied specific components of garlic,such as allicin, and have used concentrations of 600 mcg per mL as a treatment. However, allicin amounts may vary depending on he variety of garlic and how it was grown. In addition, it is impossible to quantify the amount of garlic that could "equal" a course of antibiotics, because different antibiotics may be used at different doses and for different types of infections. However, if you are looking to consume garlic for antibiotic purposes, the University of Maryland Medical Center recommends 2 to 4 cloves of garlic or 600 to 1,200 mg of aged garlic extract daily.
Considerations
Although garlic may have some antibacterial, antiviral and antiparasitic properties, it should not be used as a substitute for any medications prescribed to you by your doctor or as a replacement for a doctor's care. Infections can cause serious health problems and the benefits of garlic as a treatment for infections has not been well established. Talk to your doctor before taking garlic supplements or anyother herbal treatment.