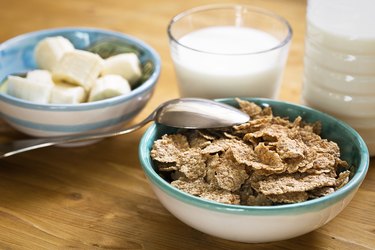 Adipex, also known as Adipex-P, a brand name for phentermine, is a prescription diet pill doctors use to treat overweight patients with health problems, such as high blood pressure or diabetes. It suppresses your appetite, aiding in weight loss, and is meant for short-term use -- only a few weeks. Combine the Adipex with diet and exercise to achieve maximum efficacy and long-term weight loss.
Prescription Weight Loss Drugs
Doctors generally prescribe prescription weight loss drugs for patients struggling to lose weight, and who have weight related medical issues, such as high cholesterol or high blood pressure. MayoClinic.com emphasizes these drugs are not intended for everyone, especially those who want to lose weight for cosmetic reasons, or those with only a few pounds to lose. You must have a body mass index, BMI, greater than 30, or one greater than 27 with an accompanying health problem. Results may vary, however, on average patients lose 5 to 10 percent of their total weight within a year when following a low-calorie diet, and follow a regular exercise plan.
A Balanced Diet
Mayo Clinic designed a healthy weight pyramid to help you choose the best foods for weight loss. Fruits and vegetables are unlimited, but you should aim for a minimum of three and four servings a day, respectively. Consume four to eight servings each day of carbohydrates, and three to seven servings of protein or dairy. Fats comprise three to five servings of your pyramid, while you can enjoy 75 calories worth of sweets.
Possible Menu
MayoClinic.com suggests 1/2 cup of bran cereal with 1 cup of nonfat milk, a small banana and herbal tea for breakfast. Lunch can consist of 4 oz. of turkey breast with a tomato slice, leaf lettuce and 1 tbsp. of low-fat mayonnaise on two slices of whole-grain bread. Add 2 cups of raw carrots, jicama, bell pepper strips and a small apple, with a glass of water. For dinner, have 2 oz. of broiled beef tenderloin with 2/3 cup of green beans steamed and three baby potatoes topped with 1 tsp. trans fat-free margarine. If you like, you can add a salad topped with 1/2 cup of cherry tomatoes and 2 tbsp. of fat-free dressing. This ensures you get your vegetable intake for the day. For dessert, you can have 1/3 cup of lemon sherbet, and for your beverage, a glass of water with lemon. Any time through the day you can have one small pear for snack.
Considerations
The diet MayoClinic.com suggests is based on 1,200 calories. This may vary according to the amount of weight you have to lose. Your doctor can adjust this accordingly. Also, you may require different foods depending on your specific health condition. If you have high blood pressure, a low-sodium diet may be more appropriate, while a low-fat diet is typically necessary for those with high cholesterol. Aim for 30 minutes a day of moderate exercise, such as brisk walking, most days of the week. Healthy eating and exercise go hand in hand for weight loss success.