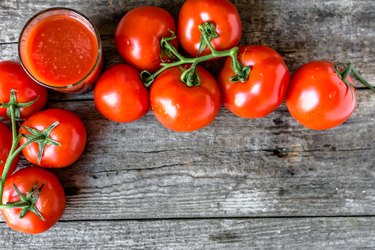 The V8 brand of vegetable beverages includes a variety of products, including vegetable juices, veggie blends, fusion and energy drinks, and infused waters. V8 beverages are promoted as a way to help consumers increase their consumption of vegetables.
Only 13 percent of American adults meet recommended vegetable intake, according to a July 2015 report from the Centers for Disease Control and Prevention. V8 products contain a number of healthful vegetable-derived nutrients.
The nutrient profiles differ, however, depending on the specific V8 beverage. V8 is generally considered a healthful beverage option, but there are possible side effects for people who consume large quantities or have specific health concerns.
Loose Stools With Fusion Drinks
Loose stools are a possible side effect from drinking V8 juice. This side effect is not likely with the original V8 drinks, which contain only vegetable juices. It is more likely — although still uncommon — with the veggie blend and fusion drinks, which contain a mixture of vegetable and fruit juices.
The sugars in fruit juices can cause loose stools or diarrhea, especially when consumed in large amounts and in the absence of solid foods. People who have an underlying intestinal disorder, such as irritable bowel syndrome or inflammatory bowel disease, might be more sensitive to developing loose stools or diarrhea in response to drinking vegetable and fruit juices, not just V8.
Excess Sodium May Worsen Hypertension
Too much dietary sodium can play a role in the development or worsening of high blood pressure, or hypertension. Some V8 drinks are relatively high in sodium, which could contribute to going over the recommended intake of less than 2,300 mg daily.
However, there are a a number of low-sodium V8 juice drinks. Some examples of the sodium content of an 8-ounce serving of various V8 juice drinks include:
original vegetable juice, 640 mg

original spicy hot vegetable juice, 650 mg

low-sodium original and spicy hot vegetable juice, 140 mg

healthy greens veggie blend, 210 mg

golden goodness veggie blend, 150 mg

Concentrated Source of Sugar
As of 2016, the V8 manufacturer's website reports there are no added sugars in its juice products. The beverages do, however, contain variable amounts of natural sugars from vegetable and fruit juices. The sugar content in the 100 percent vegetable juices is low, but the veggie blend and fusion drinks contain more sugar.
The higher concentration of sugar in these beverages can potentially cause increased blood sugar, a concern for people with diabetes or prediabetes. However, there are some light version of certain V8 vegetable and fruit medleys with lower sugar content.
Some examples of the sugar content of an 8-ounce serving of various V8 juice drinks include:
original and spicy hot vegetable juice, 6 to 7 g

pineapple passion veggie blend, 16 g

tropical orange fusion, 25 g

light peach mango fusion, 9 g

Acidity May Cause Heartburn
Certain vegetable and fruit juices are acidic, such as tomato and citrus juices. Some people who are prone to heartburn find tomato products and citrus fruits and beverages trigger their symptoms. As such, some V8 drinks might stimulate heartburn, caused by reflux in which stomach contents escape into the esophagus.
People with long-term reflux — gastroesophageal reflux disease (GERD) — might be particularly susceptible to this effect. Drinking a smaller amount, combining the juice with solid food, or choosing another V8 flavor might help avoid heartburn.