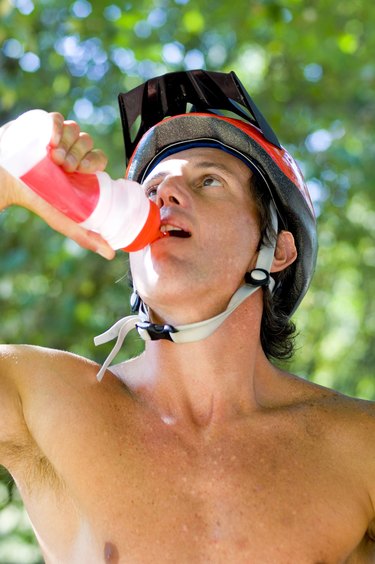 Crystal Light offers low-calorie drinks in powdered form you mix for yourself and also offers ready-to-drink beverages packaged in various-sized cartons. Whether you're trying to lose weight or maintain weight, good hydration helps to keep your stomach full and quell your hunger pangs. When you drink liquids that are cold, you increase your metabolism by 30 percent as your body expends calories to heat the fluid, according to a study published in 2003 in "The Journal of Clinical Endocrinology and Metabolism." Crystal Light drinks contain varying amounts of caffeine, depending on the particular product.
Caffeine Effects
Caffeine triggers the secretion of a stress hormone called cortisol, which increases your energy and focus but also causes a drop in blood sugar. Cortisol also can increase hunger and carbohydrate cravings. However, caffeine also boosts thermogenesis, oxidation of fat and other processes that burn calories, so the overall net effect of caffeine is likely a small loss of calories. Don't count on caffeine to help you lose weight in the long term, though, because over time your body adjusts to many of its effects.
Refreshment and Sunrise
Crystal Light's Refreshment and Sunrise products come in a variety of flavors, including Lemonade, Fruit Punch, Pink Lemonade, Raspberry Lemonade, Strawberry Kiwi, White Grape and Strawberry Orange Banana. These products are all caffeine free.
Energy and Focus Products
Crystal Light has several products designed to increase your energy or focus. One of the active ingredients in these products is caffeine. Citrus Splash flavor is marketed to enhance your focus. It contains 40 mg of caffeine per 8-oz. serving — a little less than the 50 to 80 mg of caffeine contained in a typical cup of coffee. From the Energy line of products, Wild Strawberry, Grape and Peach Mango flavors have 60 mg of caffeine per 8-oz. serving.
Metabolism and Tea Products
Crystal Light sells a Metabolism-Plus product designed to increase your metabolism. The Green Tea Peach Mango flavored drink has 25 mg of caffeine per 8-oz. serving. Crystal Light also sells a variety of tea flavors. Made with tea, which contains caffeine, these products contain 10 to 15 mg of caffeine per 8-oz. serving, except for those that are labeled as caffeine free.