One theory of nutrition advocates tailoring your diet to mesh with your blood type to improve weight loss and energy and otherwise maintain good health. According to the blood type diet, people with Type O blood should avoid foods made with coconut oil. Until recently, coconut oil was considered to be an unhealthy vegetable oil, though recently it has begun to be used again for food preparation.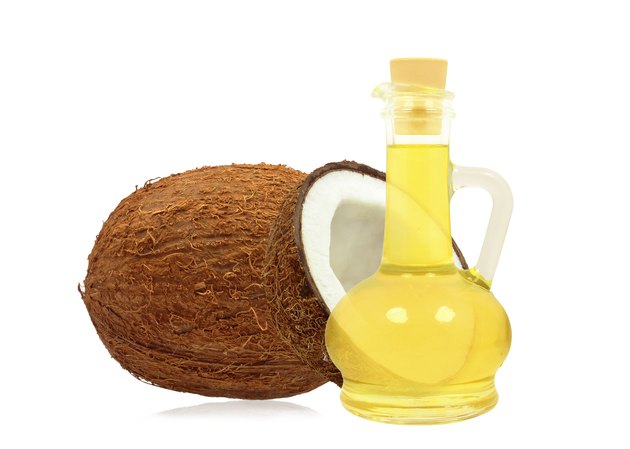 Coconut Oil
Coconut oil is derived from the fruit of the coconut tree. Beginning in 1994, coconut oil's usage in food preparation dramatically decreased because it is high in saturated fats and initially characterized as also being high in trans fats. Both of these kinds of fats increase your risk of developing heart disease. However, virgin coconut oil that has not been processed does not have trans fats and it appears that the saturated fats found in coconut oil are not as harmful as some other saturated fats based on their effects on cholesterol levels, a 2011 article in "The New York Times" explains.
Blood Types
There are eight different blood types that are based on the presence or absence of antigens on your red blood cells. Antigens are substances that can trigger an immunological reaction. One important set of antigens is antigens A and B; if you have type O blood, you do not have either of these antigens on your red blood cells.
Type O Blood and Coconut Oil
The theory behind the blood type diet is that your body's response to foods is determined in part by your blood type. Consuming the recommended foods for your blood type can help you lose weight, maintain good digestive function and promotes mental clarity. If you eat foods that are on the "not recommended" list, the food may be digested poorly or can contribute to health problems, such as thyroid disease or ulcers. According to this dieting principle, people with type O blood should eat large amounts of animal-based proteins, such as meat and poultry, though they should restrict their intake of dairy. Coconut and coconut oil are not recommended for people with type O blood because they can have a bad reaction to substances found in coconut.
Considerations
There is significant controversy behind the blood type diet, as there is no well-done scientific studies that show that your blood type has any effect on how your body responds to food. Therefore, if you have type O blood, you can probably consume small amounts of coconut oil. However, you should always talk to your doctor before starting a new diet plan or significantly changing your diet.