Providing fiber and essential nutrients in a relatively low-calorie package, grapefruit can be a good source of nutrition. However, eating too much grapefruit can cause health problems, especially if you take prescription medication. If you take medication, talk to your doctor about how much, if any, grapefruit is safe for you to eat.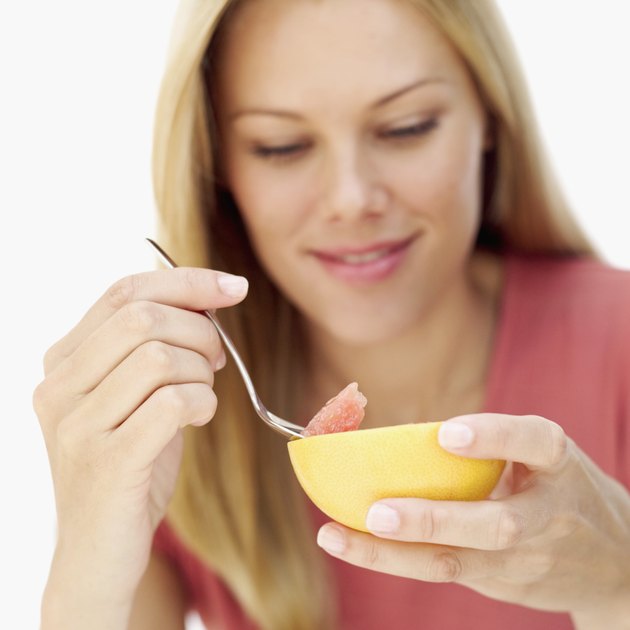 Drug Interactions
Grapefruit and its juice can cause numerous prescription drug interactions. Grapefruit blocks an intestinal enzyme needed to absorb certain medications, which can cause blood levels of the medication to rise to potentially dangerous levels. Eating too much grapefruit while taking prescription medication may thus cause adverse health effects. Depending on what type and dosage of medication you take, your doctor may discourage you from eating even small amounts of grapefruit. For example, consuming the fruit or juice of grapefruit is especially dangerous for people taking calcium channel blockers, as it could result in excessively low blood pressure and slow heartbeat. Other types of medications that may interact with grapefruit include statins, immunosuppressants, benzodiazepines, and other neurological and psychiatric medications.
Weight Gain and Gastrointestinal Effects
Although grapefruit is a healthful source of nutrition when consumed in moderation, it contains calories – about 100 per fruit, to be exact -- so eating too much of it may contribute to weight gain. As grapefruit and other fruits are high in natural sugars, they are more promotive of weight gain compared to other healthful foods like vegetables. The Dietary Guidelines for Americans recommend getting about two cups of fruit per day, based on a 2,000-calorie diet, and getting the rest of your daily produce intake from vegetables. Eating grapefruit is a more diet-friendly choice than drinking grapefruit juice because the whole fruit contains more fiber and less sugar. However, getting too much dietary fiber from high-fiber foods like grapefruit can cause gastrointestinal side effects including stomach cramps, gas and diarrhea.
Increased Risk of Breast Cancer
Some clinical research suggests a possible link between grapefruit consumption and a risk of breast cancer. In particular, a cohort study conducted by UCLA researchers and published in the "British Journal of Cancer" in 2007 concluded that grapefruit intake had an association with a significantly increased risk of breast cancer for post-menopausal subjects who ate one-quarter grapefruit or more per day, compared to non-consumers. Study researchers theorized that eating too much grapefruit might increase the risk of estrogen-dependent cancers like breast cancer. This is because grapefruit inhibits an enzyme involved in metabolizing estrogen. A 2008 "New York Times" article notes, however, that the evidence linking grapefruit intake to breast cancer is not conclusive and that other studies have concluded no link between the two.
Considerations
If you take no medication that interacts with grapefruit, consuming grapefruit in moderate portions is likely safe and can help you get key nutrients that your body needs. Eating 1/2 grapefruit provides 2 g of dietary fiber and generous amounts of vitamin C, vitamin A, calcium, potassium and lycopene – all for only 52 calories. It's important to note that contrary to the claims of fads such as "The Grapefruit Diet," grapefruit is not a special "fat-burning" food that will help you lose weight; in fact, there are no such foods. Diets that restrict or emphasize certain foods can also cause health problems and nutrient imbalances. If you really want to lose weight, you will have to reduce your total caloric intake, increase your level of physical activity, or both.