Some weight-loss diets focus on replacing one or two meals a day with specially formulated beverages. While it may be tempting to use Ensure in this manner, doing so probably won't result in lasting weight loss, and may even lead to weight gain. Ensure isn't marketed as a weight-loss product, but as a way to add more calories for people who need a boost in their daily intake.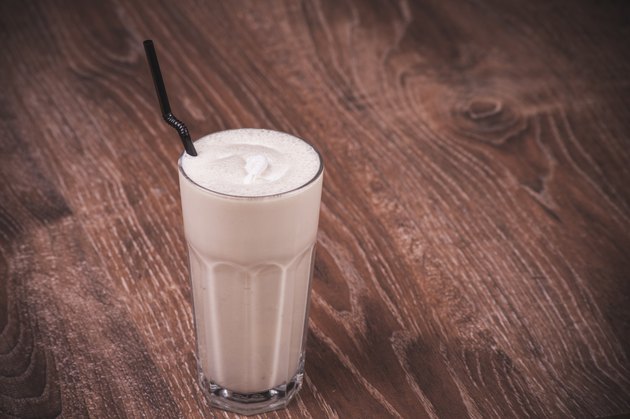 Ensure as a Meal Replacement Beverage
Even the manufacturer of Ensure notes that Ensure is suitable only as an occasional meal replacement drink -- meaning that you probably shouldn't drink it consistently instead of having an actual meal. Original Ensure has about 220 calories per serving, so that it has too many calories for a snack but is not substantial enough to be a meal -- especially since many versions of Ensure do not contain fiber, which would make them more filling. Ensure Plus and Ensure Complete contain 350 calories a serving, which is approximately what many women need in a meal when they're trying to lose weight. Ensure Complete contains 3 grams of fiber, adding to its satiety.
Mixing lower-calorie varieties of Ensure into a smoothie, along with other nutritious ingredients -- such as oats, green leafy vegetables, flax or chia seed and/or fruits -- is one way to increase Ensure's caloric and nutrient content sufficiently so that it becomes a more suitable meal replacement. Another option is to drink Ensure along with a small meal that's low in energy density -- or calories per gram. Examples of foods low in energy density include a salad or a broth-based soup. Either of these will add nutrients and will also make a more filling meal. Diets low in energy density may help increase weight loss, according to a review article published in the Journal of the Academy of Nutrition and Dietetics in 2012.
Using Ensure as a Snack
Some versions of Ensure may be helpful for those on a diet -- who are looking for a quick and easy snack -- although these versions may not be the most filling alternative. Ensure Clear has only 180 calories and Ensure Active Light has about 70 calories. Both of these are too low in calories to be used alone as a meal replacement, and are more in line with the recommended number of calories for a snack. Eating a piece of fruit or a few carrot sticks as part of a snack that includes Ensure Active Light will increase the amount of fiber and will make the snack more filling, while still keeping the number of calories relatively low.
Potential Nutrient and Calorie Considerations
Usually, Ensure is marketed as a way to increase calorie and nutrient intake in people who have difficulty getting enough nutrients from eating regular food. You can use Ensure as an easy-to-drink source of calories and nutrients that are readily absorbed, and this is often recommended as an extra snack or a mealtime beverage to help with weight gain -- rather than promoting weight loss. In fact, an animal study published in Physiology & Behavior in 2006 noted Ensure's ability to cause long-term over-consumption of calories, most likely because Ensure is easy to drink, digest and absorb. On the other hand, if you try to replace multiple meals with Ensure but don't eat other foods at the same meal, you may get too few calories and nutrients. Getting too few calories may slow your metabolism and may actually make it more difficult for you to lose weight. The minimum number of recommended calories a day is 1,200 for women and 1,800 for men.
Some doctors are not so certain about using Ensure and other meal-replacement beverages -- because these drinks aren't as high in nutrients as you might think. Often, they consist of a mix of sugar, water, protein, vegetable oil and some added vitamins and flavoring. It's probably better to eat whole foods rather than using these beverages, whenever possible.
Alternatives to Ensure
If you don't want to buy Ensure, you can make a nutritious smoothie. To do this, use about 1 1/2 cups of fruits and vegetables; 3/4 cup of milk or nondairy milk alternative; a source of low-fat protein -- such as tofu, low-fat cottage cheese or nonfat plain Greek yogurt -- and perhaps a small amount of nuts or seeds to add healthy unsaturated fat and a little protein. Changing the ingredients gives you a way to create a broad array of different flavors, so that you are less likely to become bored with your beverage.
Exercise to Lose More Weight
Replacing one of your regular meals with a meal based on Ensure may help with weight loss if you manage to consume fewer calories overall -- but you're likely to lose more weight and more fat if you also increase the amount of exercise you get each day. Doing a combination of weight training and cardio will help preserve your muscle while you lose weight. Try to get at least 30 minutes of moderate-intensity exercise each day and at least two weight training sessions a week, recommends the Centers for Disease Control and Prevention.