Fatigue and tired or cramped legs are symptoms of low potassium, also called hypokalemia. If you have these and other symptoms, get your potassium levels checked, along with other blood tests. A number of other underlying conditions could be contributing to the problem, and each condition requires its own course of treatment.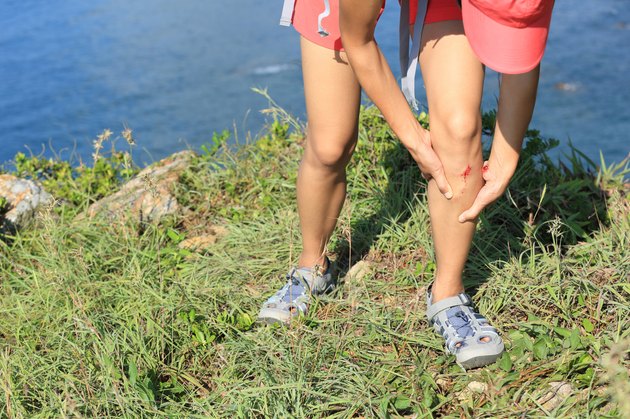 Causes
Hypokalemia usually isn't caused by not getting enough potassium in your diet; rather, it results from excessive loss of potassium from your digestive tract or through urine. Conditions that can cause low potassium include chronic kidney failure, primary aldosteronism and malabsorption disorders, such as inflammatory bowel disease, colitis or Crohn's disease. Low potassium can also occur in people with eating disorders or who take diuretics or laxatives, or it can be a side effect of excessive diarrhea or vomiting.
Other Symptoms
In addition to fatigue, signs that your potassium is low include weakness, muscle cramps, constipation and abnormal heart rhythms. A doctor can administer a blood test to determine an exact diagnosis. Normal blood potassium levels are 3.6 to 4.8 milliequivalents per liter; a level below 2.5 mEq/L could be life-threatening. If your test results show a level this low or lower, your doctor may advise you to seek emergency medical attention.
Treatment
Treating the underlying condition that's causing your hypokalemia should also regulate your body's potassium supply and get you back on the path to overall health. This may involve changing the type or dosage of a medication that could be affecting your potassium level; talk to your doctor about this issue if you're taking any medications, especially diuretics or laxatives. Older people may have potassium problems when taking anti-inflammatory drugs or ACE inhibitors. You may need to take some time off from regular activity until your condition is treated and you're feeling healthy again.
Prevention
Although diet-related hypokalemia is rare, eating potassium-rich foods can help prevent it from occurring. In addition, eating a balanced diet rich in all essential vitamins and minerals helps your body get the energy it needs to keep you from feeling too tired. Potassium-rich foods include bananas, citrus fruits, avocado, cantaloupe, tomatoes, raisins, pears, potatoes, papaya, lima beans and certain types of meat and fish. Potassium supplements, other than via a multivitamin, should only be taken under a doctor's orders.