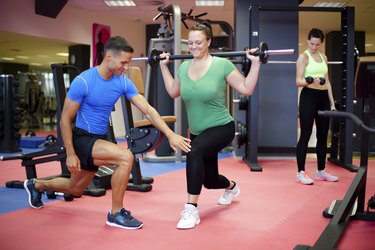 According to an article on USAToday.com, studies show people who are apple-shaped need to do regular exercise to shed belly fat. The type of exercise the "Belly Full of Danger" article prescribes is moderate to vigorous intensity cardio. Restricting your calories and eating healthy foods are also recommended to lose belly fat. Thirty to 45 minutes of exercise helped participants in a 2003 study published in "Journal of the American Medical Association" lose 3 to 6 percent of their belly fat. A study done by the University of Arkansas found that 90 minutes of moderate-intensity cardio done 5 days a week by participants resulted in twice the amount of belly fat lost over dieting alone. "AARP" magazine, therefore, recommends cardio, strength training and a balanced diet as the way to lose belly fat, according to its article titled, "How to Lose Your Spare Tire."
Step 1
Do a minimum of 30 minutes of physical activity 5 days per week. Visceral or intra-abdominal fat is responsive to exercising, according to the University of Alabama at Birmingham's article, "Belly Fat Can Increase Risk of Heart Disease, Diabetes." The Centers for Disease Control and Prevention (CDC) recommends activities such as water aerobics, walking at a brisk pace and cycling.
Step 2
Do 2 days a week of strength training. Sign up for yoga classes or weight lifting classes at your gym. Increase the weight you lift by 5 to 10 percent every week or every other week, as recommended by the AARP.
Step 3
Cut your calories by 500 to 1,000 calories per day, as recommended by the American Obesity Association, but without sacrificing protein and fiber. Keep a food diary to account for daily calorie consumption. Ask your doctor how many calories you can spare.
Step 4
Eat 60 to 70 grams of protein daily, as recommended by Leslie Bonci, M.P.H., R.D. and the AARP. Bonci is the director of Sports Medicine Nutrition for the Department of Orthopedic Surgery and the Center for Sports Medicine at the University of Pittsburgh Medical Center. One study published in "The Journal of Nutrition" in 2005 stated that protein increases fat burning because it maintains muscle mass.
Step 5
Eat 25 grams of fiber daily, as recommended by the National Academy of Sports Medicine. Fiber in your diet will help you eat less because your stomach will feel full.
Tip
Losing intra-abdominal fat reduces your risk of getting diabetes, high cholesterol, high blood pressure and having heart attacks and strokes, according to the University of Alabama at Birmingham.