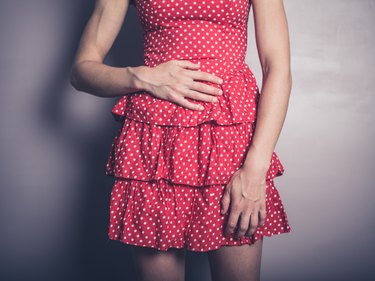 NOS Energy drink is a highly caffeinated beverage intended to provide increased alertness and physical energy. Although NOS Energy drink can provide some beneficial effects, several ingredients in the product may promote adverse effects. Because of the potential for dangerous side effects, you should review the ingredients in NOS Energy carefully and consider whether NOS Energy may interfere with any medications you take.
Diarrhea
Using NOS Energy may cause you to experience diarrhea. Caffeine is a diuretic, meaning that it flushes water out of your system, which can result in diarrhea. Additionally, NOS Energy contains the amino acid carnitine, which may also cause diarrhea.
Delayed Muscle Recovery
If you consume NOS Energy to help you get through workouts, the beverage may actually be sabotaging your goals. NOS Energy contains antioxidants such as vitamin C and beta-carotene, which research published in the September 2009 edition of "Medicine & Science in Sports & Exercise" found could delay muscle recovery. Additionally, NOS Energy contains only 1 g of protein; the December 2010 issue of "International Journal of Sport Nutrition and Exercise Metabolism" indicates that 20 g of protein is required for optimal muscle recovery.
Nerve Damage
NOS Energy drink is high in vitamin B-6, which helps your body metabolize food. However, vitamin B-6 can be harmful in large doses. Too much vitamin B-6 may cause nerve damage that results in numbness or pain in your extremities and impaired walking ability.
Increased Risk of Diabetes
NOS Energy drink is high in sugar, with 27 g in each 8 oz. can. This can be detrimental, as the Harvard Medical School suggests that regular consumption of high-sugar beverages can promote an increased risk of diabetes. The research cited in the May 2008 issue of "The American Journal of Clinical Nutrition" also indicates that combining caffeine with carbohydrates can also encourage insulin resistance.
Anxiety
NOS Energy drink contains high levels of caffeine, which may promote increased feelings of anxiety and nervousness. In addition, it may inhibit your ability to sleep.