More than 50 percent of all Americans take vitamins, says the National Institutes of Health, and this number had been relatively solid for about 10 years at the time of publication. The most popular vitamins on the market are B-complex, vitamins C and E. For the treatment of fatigue syndromes, eating a nutrient-rich diet or taking daily supplements seems to be promising, but for people who feel sleepy despite their daily vitamin regimen, it's possible that hypervitaminosis – taking too much – is to blame.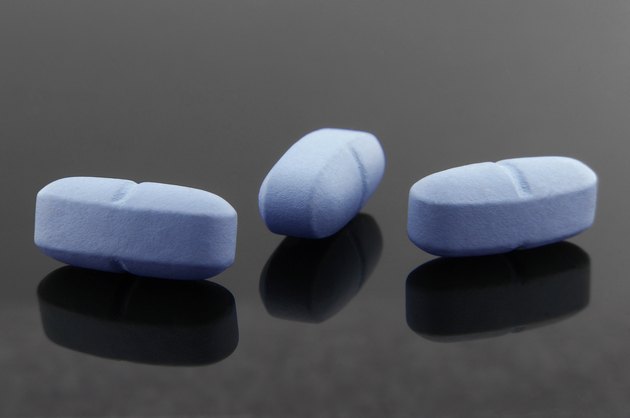 Chronic Fatigue Syndrome
Chronic fatigue syndrome is a condition that causes constant sleepiness. Patients report feeling too tired to do even daily activities, regardless of how much sleep they get. Vitamins have offered some relief to people with CFS, according to the University of Maryland Medical Center. Taking a sufficient amount of vitamin B-12 may improve energy. Vitamins B-6 and B-5 may reduce stress, which can increase fatigue. Vitamin D deficiency seems to worsen symptoms of CFS.
Vitamin Toxicity
Hypervitaminosis is a condition that occurs when a person has high blood serum levels of a particular vitamin. The Institute of Medicine has developed tolerable upper intake levels, or UL. This refers to the highest daily intake level that poses no risk of health complications to nearly all individuals in the population. For any intake that exceeds the UL, risk of adverse effects may increase. For many vitamins, feeling tired or fatigued is a side effect of over-supplementation.
Symptoms
There are two types of vitamin toxicity: acute and chronic. "Acute" hypervitaminosis occurs when a person takes too much of a vitamin over a short period of time. "Chronic" refers to when a person takes too much over a longer, consistent period of time. Taking too much of vitamins A and D, according to "The New York Times," can cause fatigue and weakness. High doses of B-6 can lead to neurological and sensory problems, according to the Linus Pauling Institute. Most cases of toxicity can be avoided by getting the recommended daily allowances of vitamins through dietary sources. In many instances, the body has a built-in mechanism for preventing overdosing in this manner.
Considerations
When vitamins taste like candy or are sold in the shape of cartoon characters, it's easy to understand how their potential dangers can be underestimated. Before starting any new vitamin regimen, discuss your current medications and general health with your doctor. Keep in mind that many vitamins can interact dangerously with other prescription drugs. Also, vitamin toxicity is a very real concern for people who frequently drink vitamin-infused beverages and eat a diet high in vitamins while also taking multivitamin supplements.