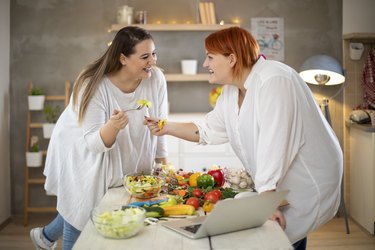 Trying to lose weight? If you've considered starting the Medifast or Optavia diet programs, you may have questions about how they work. Both programs provide you with structure to eat fewer calories and healthier foods, but one is a bit more "hands on" than the other.
Both of these commercial diet programs stem from the same company: Medifast, Inc.
Optavia offers nutritional plans that use a combination of recipes and pre-packaged foods (referred to as "fuelings") offered exclusively through an Optavia coach. The foods provided by the plan include shakes, bars and smoothies, which are all free of artificial colors, flavors and sweeteners, explains Jennifer Christman, RD, LDN, clinical nutrition director at Medifast, Inc.
On the other hand, Medifast Direct is a more self-guided program, which allows users to access food products on their own without going through a coach, Christman says.
The Optavia program encourages clients to develop new lifestyle habits, specifically focusing on weight management, eating, hydration, motion or exercise, sleep, mindfulness and surroundings.
"Optavia uses the science of habit formation to help you incorporate healthy behaviors consistently to transform how you act for life," says Wayne Scott Andersen, DO, Optavia's co-founder. "By focusing on small, everyday behavior changes that lead to healthy habits, Optavia helps the mind and body work together."
Dr. Andersen says he created Optavia to help others improve their overall health and well-being. ​"​I started my career as a critical care physician, but, after many years in the industry, I developed a desire to get to the root cause of poor health — rather than simply treating sickness — and transitioned into preventative care," he says.
Do the Plans Really Work?
Personally investing in one of these diet programs may be about how much structure you need to achieve your goals.
Optavia "is a low-carb diet, which we have seen weight-loss benefits from since Dr. Atkins' diet days," says Nicole Schillinger-Vogler, RD, LDN, a dietitian and personal trainer at the Functional Health Center in Philadelphia. "I just think we do not need to buy any packaged food to succeed with weight loss — we can still eat low carb and high protein with moderate healthy fats and not consume negative additives and ingredients."
Some people may find that easier said than done, however.
In a study funded by Medifast, 198 mostly middle-aged, overweight women were randomized into either an Optavia group (decreased caloric intake with delivered meal replacements and telephone coaching), a Medifast group (a self-guided, online, reduced-calorie plan) or a control group (with participants using a self-directed, reduced-calorie diet consistent with U.S. nutrition guidelines).
After 16 weeks, people in the two structured diet programs lost more weight than those going it on their own. Medifast and Optavia participants lost an average of 5 to 6 percent of their baseline weight, compared to 1.6 percent in the self-directed group, according to study findings published in February 2019 in ​Obesity Science & Practice.​
The researchers noted that the percentage of weight loss achieved by the structured diet groups is associated with a reduced risk for diabetes and heart disease. They also noted a slightly higher boost in weight loss from the use of meal replacements and coaching support phone calls in the Optavia group.
Four of the eight researchers who did the study reported being employed by Medifast at the time. The other four were affiliated with a contract research organization specializing in clinical trials.
Common Questions (and Answers)
​Is it safe to drink coffee while using Optavia or Medifast?​ "Yes, you may have coffee while on the program," says Christman. "However, we recommend limiting caffeine to 300 milligrams or less per day as you may be more sensitive to the effects of caffeine on a reduced-calorie meal plan."
​Does Optavia cause you to go into ketosis?​ "The 'Optimal Weight 5 & 1 Plan,' our most popular plan for weight loss, promotes a gentle but efficient fat-burning state," Christman says. "This is sometimes referred to as a mild state of ketosis." On this plan, she says, a person will eat about 800 to 1,000 calories a day and 80 to 100 grams of carbohydrates.
​Are there any side effects caused by Optavia or Medifast?​ "When you reduce your calorie intake and change your diet, the body often goes through an adjustment period," Christman says. "This will be different from person to person, based on their previous diet, health status and many other factors. We recommend that you consult your health care provider prior to starting any weight-loss program and during the course of your weight-loss journey."