The herpes virus exists in several different variations, but all forms of this virus cause painful sores that appear when the dormant virus becomes active. According to Family Doctor, the dormant herpes virus can recur as a result of stress, illness or other conditions that impair immunity. Treatment for herpes include prescription oral and topical medications to reduce symptoms. Certain vitamin and mineral supplements including magnesium may help improve your immune system response to decrease the risk of recurrence of herpes symptoms.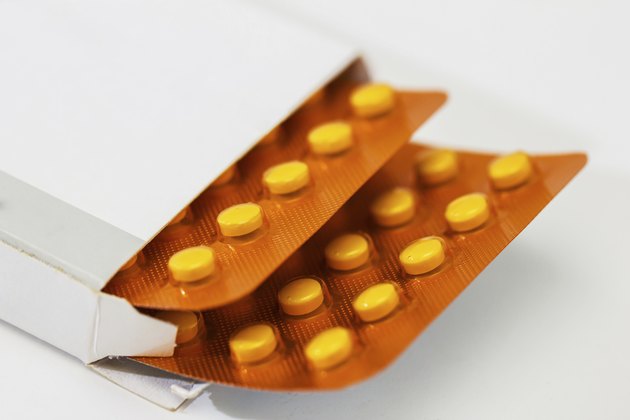 Magnesium
Every organ in your body contains the mineral magnesium, which is essential for metabolism, enzyme activation and the regulation of other nutrients. The University of Maryland Medical Center explains that although a deficiency of magnesium is considered rare, most people probably don't get enough magnesium from the foods they eat. In addition, chronic stress can cause magnesium depletion as well as impaired immunity. Dark green leafy vegetables as well as whole-grain products are rich sources of magnesium. The UMMC adds that magnesium is often used as an adjunct therapy with conventional medical approaches, to enhance the treatment's effectiveness.
Herpes
The two forms of the herpes virus are herpes zoster, which is the cause of chicken pox and shingles, and herpes simplex, which is responsible for cold sores and genital herpes. The virus itself never leaves your body but lies dormant. The University of Maryland Medical Center explains that the exact reason herpes recurs is unknown but research points to stress and depleted immunity as primary causes. The dormant herpes virus lies within the nerve endings, causing significant pain when it flares. Sores generally develop, and can be accompanied by a rash on the torso caused by herpes zoster or painful blisters in and around the mouth or genitals caused by herpes simplex.
Magnesium and Herpes
Although the herpes virus is resistant to medications to kill the virus, it appears that supplements like magnesium may reduce the severity and duration of symptoms. A 2008 study published in the "Journal of Pineal Research" found that a combination of magnesium, phosphate and fatty acids was effective in reducing the duration of herpes simplex outbreaks. In addition, the "Nutrition Almanac" explains that magnesium combined with calcium is important in maintaining the health of nerves affected by herpes zoster. This also can help to retain the communication integrity of the nerves that can be damaged by the herpes virus.
Considerations
According to the University of Maryland Medical Center, magnesium is available in several different forms, with citrate, gluconate and lactate being the most readily absorbed by the body. Magnesium supplements, they add, can interact with a large number of medications including antibiotics and medications for diabetes. The optimal way to get adequate amounts of magnesium with less risk of interactions or side effects is by eating foods that are rich in the mineral. Speak with your doctor before using supplemental magnesium.
Is This an Emergency?
If you are experiencing serious medical symptoms, seek emergency treatment immediately.