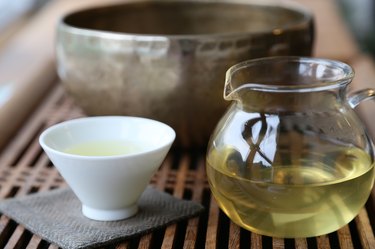 Not only is tea one of the nation's favorite beverages, but research suggests regular consumption helps fight diabetes. In 2012, 29 million Americans had diabetes, according to the National Diabetes Statistics Report, 2014. While Type 1 diabetes is unrelated to lifestyle, poor eating habits and lack of physical activity increase the risk of developing Type 2 diabetes. Green, black and oolong teas may possess blood sugar-lowering properties.
Green Tea
In 2013, "The American Journal of Clinical Nutrition" published a study that analyzed 17 clinical trials to evaluate the effect of green tea on glucose control. Researchers found that drinking green tea significantly reduces fasting blood sugar and hemoglobin A1c -- a glucose-carrying protein in your blood. HbA1c is a useful indicator of consistent blood sugar control and is routinely measured in people with diabetes to ensure their blood sugar is managed properly.
Black Tea
Similar to green tea, black tea promotes healthy blood sugar, according to a study published in the May 2012 edition of the journal "Preventative Medicine." Researchers examined the effects of black tea on blood sugar in healthy adults. Participants drank black tea for 12 weeks and had their glucose and lipid levels tested against baseline. Black tea reduced blood sugar by 18 percent, which researchers said was highly significant. They noted a significant reduction in triglycerides and a bad form of cholesterol called low-density lipoprotein as well.
Oolong Tea
Oolong tea appears to lower blood sugar, but only in people with diabetes. The journal "Diabetes Care" published a study in 2003 showing oolong tea significantly lowered blood sugar in people with Type 2 diabetes. However, the "European Journal of Clinical Nutrition" published a study in 2011 using healthy, nondiabetic men and failed to get the same results. Researchers in the later study found that consuming oolong tea had no significant influence on blood sugar in nondiabetic adults.
Managing Your Blood Sugar
Work with your doctor to manage your blood sugar if you have diabetes. Let him know if you're interested in adding tea to your diet for potential blood sugar benefits. He'll monitor your blood sugar closely and may need to adjust your medication. If you're diabetes free, adopt a healthy diet, keep your weight at a healthy level and get your muscles moving with regular exercise. Being overweight, leading a sedentary lifestyle and poor diet increase your diabetes risk.