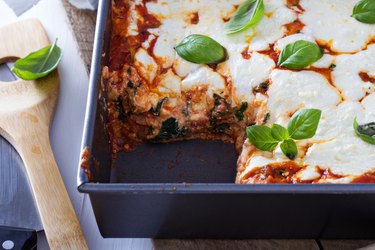 Adding egg to ricotta cheese helps to bind the cheese for lasagna so that it doesn't ooze out of the casserole when you cut it. Basically, the egg helps all the cheesy goodness stay intact.
So what happens if you don't put eggs in your lasagna? It'll just be a bit runnier, but omitting the egg won't affect the taste.
Here's how to mix egg and ricotta cheese for a stellar homemade lasagna.
Tip
If you're watching your calories, consider substituting low-fat cottage cheese for the ricotta, as it has about half the calories of part-skim ricotta and around 8 fewer grams of fat per 1/2-cup serving, according to the USDA.
Things You'll Need
1 lb. ricotta cheese

Cheesecloth

Colander

Large bowl

2 large eggs, lightly beaten

2 tsp. dried oregano

Kosher salt or sea salt

Coarsely ground black pepper

Mixing spoon
Line a large colander with cheesecloth and set it in a large bowl. Fill the colander with the ricotta cheese, and place it in the refrigerator for 3 to 4 hours to allow the excess liquid to drain off.
2. Add Egg and Ricotta to a Bowl
Place the drained ricotta, eggs and oregano in a clean, large bowl.
3. Mix Ricotta With Egg and Seasonings
Combine the ingredients thoroughly with a large mixing spoon.
Season to taste with salt and pepper, and mix again to combine thoroughly.
Tip
Experiment with different seasonings in the ricotta. Try adding freshly grated Parmigiano-Reggiano cheese and fresh basil to the ricotta when making lasagna.
If you have leftover ricotta filling after making your lasagna, use it to stuff ravioli, tortellini, manicotti or large shell-shaped pasta.