Six-inch leg raise exercises, also called leg-lift exercises, are a good way of toning the lower abdominal muscles. They can also tone the calves and the thighs, and help you with balance and flexibility. They are called six-inch leg raise exercises because, if done properly, you should aim to lift your legs six inches from the floor.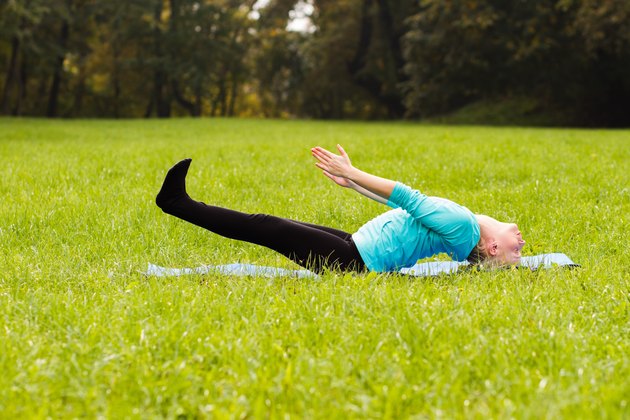 Method
Warm up your muscles first by doing five minutes of cardiovascular exercise such as jogging, jumping rope or jumping jacks. Lie on your back, making sure your back is straight and your core is tight. Stretch your legs out in front of you, with your feet together. With your hands by your sides, slowly lift your legs about six inches off the floor. Hold this position, using your stomach muscles to keep you stable. Hold the position for three seconds and rest. This exercise is most effective if you carry out at least 10 repetitions, according to "Stack" magazine.
Frequency
Six-inch leg raise exercises should be performed twice a week, on alternate days. It is very important to allow your muscles to rest, because this gives the muscle tissue a chance to heal and subsequently grow. You can perform exercises on other parts of your body such as the legs and arms on the days when you are not working on your abdominal muscles.
Benefits
Six-inch leg raise exercises work the lower abdominal muscles. Toning and tightening your lower abs will give you a flatter stomach and will also help to improve your posture. Performing six-inch leg raises twice a week can also help to balance and stabilize your core.
Caution
Before beginning any exercise regimen, you should consult your doctor first. If you are going to perform six-inch leg raise exercises, you should ask your doctor to check the health of your back and stomach muscles. Before performing any exercise, you should always warm up to avoid injury and to make sure your muscles are working at their optimum level throughout the exercise.