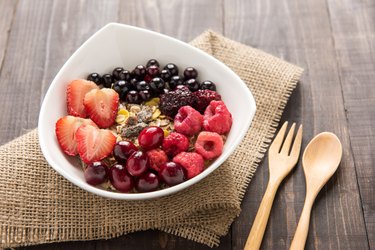 Oatmeal is a nutritious, whole-grain choice for breakfast, but if you're planning on eating it every day, it's not a complete breakfast all on its own. Oatmeal is a great source of fiber, but including a source of protein and fresh fruits and veggies with your breakfast will help you start off the day with a more balanced meal. Talk to your doctor before making any changes in your diet, especially if you have allergies or health conditions.
Oatmeal is a healthy breakfast option that won't only help you stay healthy -- it may help you lose weight, lower your cholesterol and reduce your risk of developing heart disease. One 1/2-cup serving of oatmeal contains 150 calories, 3 g of fat, 27 g carbohydrates, 4 g fiber, 5 g protein and 1 g sugar. Oats are high in soluble fiber, which will help you stay full and may help lower your levels of low-density protein, or bad cholesterol. Although oatmeal is nutritious, adding other toppings to your oatmeal will balance out your breakfast.
Stirring 1/3 cup dried cranberries, 1/4 tsp salt and 4 tsp. chopped walnuts into 1 cup of oatmeal will add fruit and lean protein -- the walnuts -- to your breakfast. The recipe makes four servings. If desired, sprinkle a small amount of brown sugar or honey top of the oatmeal to add extra sweetness. You'll add a few additional calories to your breakfast, but you'll also add extra fiber, protein and a serving of fruit.
Cook 1/2 cup of oatmeal, and stir in 1/3 cup of blackberries right before the oats are finished cooking. Spoon the mixture into a bowl, then sprinkle 1 tbsp. almonds and a few more blackberries on top. Blackberries are high in antioxidants, while almonds are high in omega-3 fatty acids, which may help reduce heart disease. As a special treat, crumble a graham cracker on top to sweeten up the dish.
If your child turns her nose up at oatmeal, adding peanut butter and jelly to her breakfast may help. Cook 1/2 cup oatmeal, then add 1 tsp. crunchy peanut butter and 1 tsp. jelly -- preferably made from 100 percent fruit. Stir the oatmeal lightly, then pour it into a bowl. Your child will get a serving of fruit from the jelly and a serving of lean protein from the peanut butter. Because the oatmeal includes a few of her favorite flavors, she may be more likely to finish her breakfast.