If you are putting in too many hours at the gym or training too hard for sports, your body may begin to respond negatively. Overtraining syndrome is a common condition among athletes and fitness enthusiasts, one that can manifest itself through a variety of symptoms, both physical and psychological. Discuss your fitness regimen and symptoms with your doctor, who can provide professional diagnosis and treatment advice.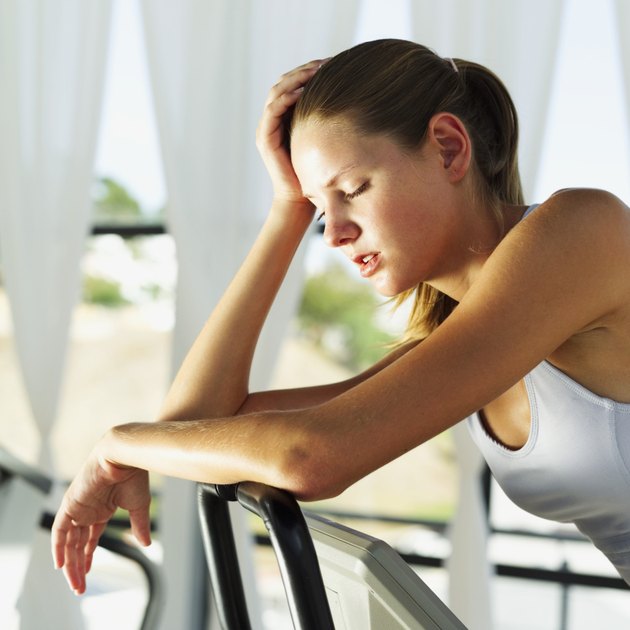 Physical Effects
If you are overtraining, you may experience physical effects first. Overtraining can lead to an increased resting heart rate. If your resting heart rate is increased by more than five beats per minute, you are probably experiencing overtraining syndrome, according to research published in the "Journal of Athletic Training." You might also experience unexplained weight loss and decreased appetite. You might find yourself excessively thirsty, particularly at night, indicating possible dehydration. Lack of perspiration is another method that your body might use in an attempt to regulate fluids.
Psychological Effects
If you are not feeling your usual excitement for your fitness regimen or sport, or if you do not feel mentally prepared for exercise or competition, you could be experiencing the psychological effects of overtraining syndrome. You might also experience sleep disturbances, or feel drowsy during the day and unable to rest at night. Similarly, you might feel excessive fatigue, apathy, irritability or hostility. Other emotions associated with overtraining include depression, anger and inability to concentrate.
Additional Symptoms
In addition to the aforementioned effects, you might see worsening performance during fitness testing due overtraining syndrome. Meanwhile, your levels of cortisol, or stress hormones, tend to increase. It is possible to experience a decrease in testosterone levels, which can have negative consequences for men and women alike. You may also find yourself suffering from a weakened immune system, which can lead to frequent illness.
Prevention and Treatment
The best way to prevent overtraining syndrome is to follow a training schedule that varies your training load and includes mandatory rest phases. Treatment for both the physical and psychological symptoms of overtraining requires attention from medical professionals. Address your physical symptoms immediately; tackle your psychological symptoms next. You might have to limit your training time or take a break. The first and most vital step for treatment is simply recognizing that you are suffering from the condition.