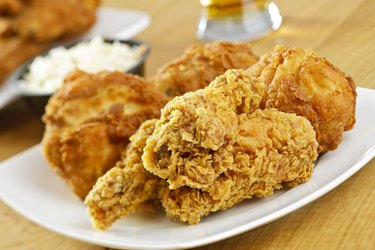 Among fast food connoisseurs, KFC cole slaw occupies an honored spot. It is considered by some to be the finest offering on the KFC menu, and copycat recipes abound. KFC publishes ingredients and nutritional information about all of its products, including cole slaw. However, those who make it at home insist the taste comes from other ingredients not listed on the KFC website. The most likely contenders, in terms of secret ingredients, seem to be buttermilk and tarragon.
Listed Ingredients
The KFC website lists all ingredients for its cole slaw. They include chopped cabbage; carrots; onions; sugar; water; soybean oil; distilled vinegar; corn syrup; food starch; whole eggs; salt; corn vinegar; spice; apple cider; vinegar; and paprika. It also contains natural and artificial flavors.
Nutritional Information
A serving of KFC cole slaw contains 150 calories. Sixty calories are derived from fat, however KFC cole slaw contains no trans fats. There is no cholesterol either. There are 21 g of carbohydrates and 2 g of dietary fiber. KFC cole slaw also contains 135 mg sodium, suggesting a heavy hand with the salt shaker.
Buttermilk/Lemon Juice
Top Secret Recipes claims credit for posting the first clone recipe of KFC cole slaw, which it describes as "the world's best slaw," in its first edition of "Top Secret Recipes" in 1987. Buttermilk and lemon juice appear on the clone recipe, but not on the KFC website. Most people who posted comments on the website praise the recipe as the real deal.
Tarragon/Miracle Whip
The Top Secret Recipes website insists that the secret ingredients that give KFC cole slaw its distinctive tang are tarragon vinegar and Miracle Whip instead of mayo. It also suggests covering and refrigerating the slaw overnight. Some KFC aficionados insist that refrigeration for several days brings out the true flavor of the fast food favorite.