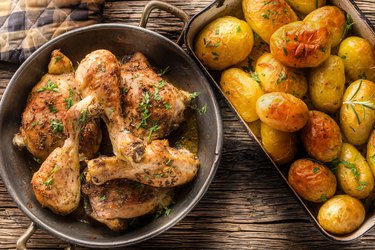 Chicken drumsticks are a popular choice for dinner, which is not surprising given they can be served up so many different ways. What's handy is that you don't have to turn on the oven to cook them — cooking drumsticks in a pan is easy when you know how.
Simple and Safe Stovetop Drumsticks
At its most basic, cooking stovetop drumsticks involves just these three steps:
Season the drumsticks with a little salt and pepper.
Sear the outside of the drumsticks in a little hot oil, turning regularly in the pan for about five minutes until they are evenly golden brown.
Reduce the heat then cook, with the lid on, for about 20 minutes at low to medium heat until they are properly done.
The above is only a guide, however, as different pans and varying drumstick sizes can yield quite a bit of variability. For this reason you should always use an instant read thermometer to check the internal temperature in the thickest part of the drumstick. According to the USDA, all types of poultry need to be cooked to a minimum internal temperature of 165 degrees Fahrenheit to be safe to eat.
Marinades and More
You can make stovetop drumsticks more interesting by marinating them first. Any combination of fresh herbs, oil, mustard and vinegar or citrus will work as a simple marinade, whether store bought or homemade. Or for something fruity and different, try this refreshing fresh mango marinade.
Drumsticks can be left marinating for anything from half an hour to overnight. While meat is marinating, keep it in a sealed container at the bottom of your refrigerator. The Academy of Nutrition and Dietetics advises against using metal containers, as the acid in the marinade could react with the metal.
Simple skillet chicken drumsticks recipes can also veer towards being more casserole-like if that's what you fancy. As an example, stove top chicken drumsticks can be turned into an easy coq-au-vin by frying some pearl onions and sliced mushrooms at the same time as you brown the chicken drumsticks. Add red wine and stock as a simmering fluid, not forgetting to remove the lid before the end of cooking to reduce the sauce, and you're done.
Are Chicken Drumsticks Healthy?
2.5mg zinc: A mineral that helps the immune system fight off bacteria and viruses according to the Office of Dietary Supplements.
26.9 micrograms selenium: Also also important for protecting against infection and for healthy thyroid function.
6.4 milligrams of niacin (vitamin B3): One of the important B complex vitamins that helps in releasing energy from the food you eat.
The American Heart Association recommends more chicken, fish and beans and less red meat for protein, but that doesn't mean it's OK to eat as many chicken drumsticks as you want. Eaten with the skin, they are not low in saturated fat, providing 3.3 grams of this type of cholesterol-raising fat per average drumstick. Taking the skin off makes them more heart-healthy.