Tart cherry juice gets its bitter taste from the antioxidants that are responsible for its anti-inflammatory effects, reports Oregon Health and Science University. The juice has been shown to reduce the pain and inflammation associated with exercise as well as the chronic inflammation of arthritis. There are potential side-effects of drinking tart cherry juice, but they may be less dangerous than over-the-counter medications typically used to relieve inflammation.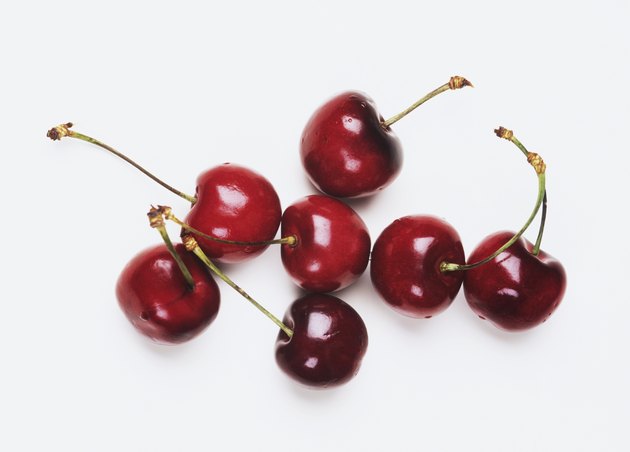 Cherry on Top
Researchers who published a study in the "Journal of the International Society of Sports Nutrition" gave long-distance runners 355 milliliters – roughly 12 ounces -- of the juice twice daily during the week leading up to a strenuous running event. Cherry juice drinkers had significantly less pain after the race than those who drank a placebo, according to the 2010 article. Tart cherry juice is also effective in reducing chronic inflammation, as reported in the "Journal of Food Studies" in 2012. Women with osteoarthritis who drank two 10.5-ounce bottles of the juice for 21 days saw a significant reduction in C-reactive protein, a marker of inflammation in the blood.
The Sour Side
Regular use of anti-inflammatory medications, such as aspirin, can cause kidney damage, heart failure and gastrointestinal problems, according to Oregon Health and Science University. Potential side-effects of tart cherry juice include abdominal discomfort and diarrhea, blamed on its relatively high sorbitol content, according to Baylor College of Medicine. The juice may also affect your weight: A 1-cup serving of tart cherry juice contains 140 calories, according to the Cherry Marketing Institute.