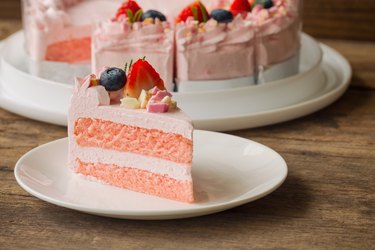 Traditionally, buttermilk was collected from the slightly sour liquid that was left after butter was churned. It was used in baked goods to add an airy texture and as a woman's facial wash for a fresh complexion.
But now, buttermilk is made from nonfat milk that has a culture called lactic acid added to it. Buttermilk has a thicker consistency than milk and a yogurt-type flavor. It's normally used to make crème fraiche or as an enhancement to baked desserts, such as cake mixes.
Things You'll Need
Cake mix

Eggs

Buttermilk

Oil

Nonstick cooking spray

2 round 8-inch pans

Large mixing bowl

Mixer

Frosting

Cooling rack
Preheat your oven to 350 degrees Fahrenheit.
Spray your pans with nonstick cooking spray.
Put the cake mix into a mixing bowl.
Substitute the amount of water called for in the cake mix directions with exactly the same amount of buttermilk, plus 1 or 2 tablespoons more, as buttermilk is slightly thicker than water. Add to your mixing bowl.
Add the amount of eggs and oil called for in the cake mix directions to the buttermilk and mix on medium speed with the mixer until it is well combined.
Divide batter evenly between the two cake pans.
Follow the box cake mix directions for baking.
Remove the cake from the oven when it's done and place the cake pans on the cooling rack.
Invert cake onto cooling rack according to cake mix instructions.
Frost your cake when it's cooled.
Tip
Buttermilk can also be substituted for milk in a mix. If you're using a 11-by-15-inch pan, use two cake mixes.
Warning
Cake mixes don't keep well in hot, humid environments. Avoid buying your box cake mixes more than a couple of months in advance in these conditions.