Insulin is a peptide hormone that is secreted by the pancreas. It regulates the metabolism of carbohydrates and fat in the body, and promotes protein synthesis and glucose utilization. Designed for use by people with insulin disorders such asPCOS, Insulinoma, metabolic syndrome and diabetes mellitus, biosynthetic "human" insulin is taken by injection.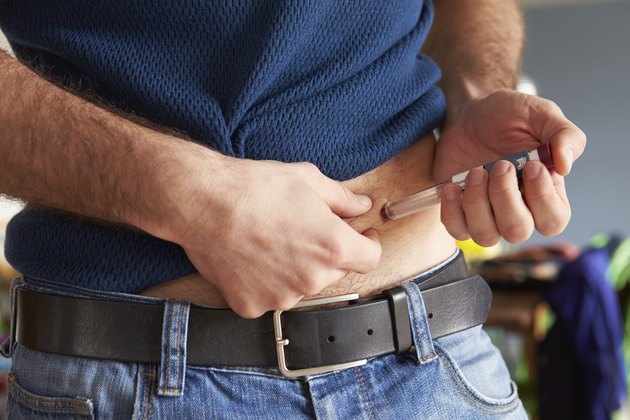 Reasons For Using
Insulin helps to volumize each cell. This is why insulin is considered to have an anabolic effect. Bodybuilders take it to increase stamina and improve endurance. Additionally, it is used to increase muscle bulk because it stimulates glycogen formation, which feeds the muscles during a workout. Finally, insulin works to prevent the breakdown of muscle protein, which also helps a person bulk up with muscle.
How To Use
Typically, users inject insulin three times daily -– immediately upon awakening, mid-day, and then immediately following a workout -- for a total of 15 to 45 IUs. The three types of insulin used the most include Humalin "N," Humalin "R," and Humalog. Each of these is used at different times of the day and at different times during the bulking cycle. The injection may be done intravenously, subcutaneously, or intramuscularly. The most common site of injection is the abdomen. High-glycemic index foods such as jelly beans, honey, glucose tablets, maltose, or dates are consumed with the injection to prevent the blood glucose level from going too low. In addition, a very rigorous diet must be followed to see the benefits and to decrease the risks involved.
Danger
Improper use of insulin can lead to the person developing diabetes mellitus, long-term organ damage, coma, or death. Symptoms of insulin shock include sweating, a clammy feeling, paleness, hunger, anxiety, trembling, rapid heartbeat, fainting, weakness, irritability, change in personality or mood, and loss of consciousness. A person exhibiting these symptoms needs immediate medical attention.
Disclaimer
It is risky for anyone to use insulin unless under the recommendation of a doctor for the legitimate treatment of insulin disorders. There are severe possible side effects of illicit insulin use that may result in death. The International Olympic Committee permits only athletes with insulin-dependent diabetes to use insulin. All other use is prohibited.