Water makes up 60 percent of your total body weight, MayoClinic.com advises, and is vital for bodily functions, including digestion. You need proper hydration, but it is possible to drink too much water. While excess fluid in your body does not cause constipation, suddenly drinking too much can have other unhealthy effects and can even be fatal if you take it to an extreme.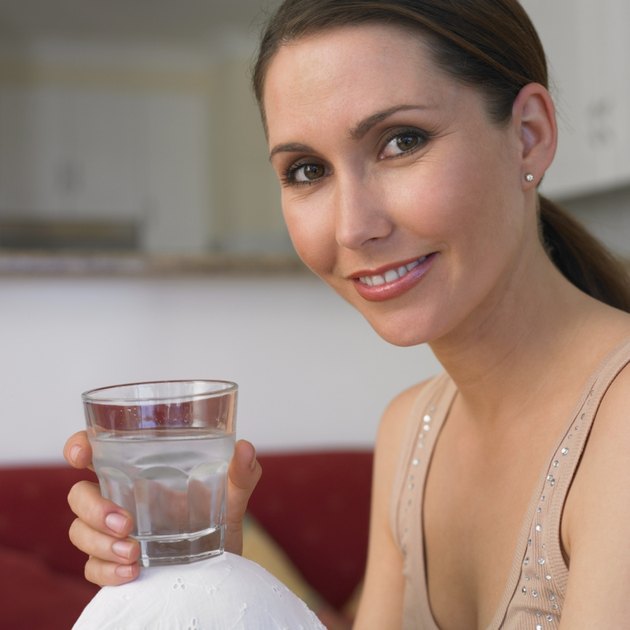 Definition
Constipation is the inability to have a bowel movement at least three times within a week, the National Digestive Diseases Information Clearinghouse advises. The timing of the digestive process is different for everyone, and variance is normal, but your bowels must move regularly to eliminate waste from your body. Constipation often involves small, hard pieces of fecal matter rather than soft, bulky, stool, which results in straining and pain when you try to have a bowel movement.
Causes
Lack of water is one of the top causes of constipation, coupled with eating too little fiber. Your digestive system needs enough water to keep the stool soft and moist. Your body does not digest fiber, so this plant material absorbs water and bulks up your stool, keeping it moist and soft. The fiber cannot do its job properly if you are not properly hydrated and your digestive system does not have enough water available.
Warning
Do not suddenly drink a lot of water to fight constipation. Healthy water intake is gradual, throughout the day. Sudden, excessive water consumption does not cause constipation and will not cure it, but it can be toxic to your system. For example, writer Coco Ballantyne reports in "Scientific American" that a California State University student died in 2005 after being forced to drink large amounts of water in a fraternity hazing, and in 2007, a woman died after a contest in which she drank 6 L of water within three hours to win a Wii video game system. Too much water causes a condition called hyponatremia and disrupts the body's chemical balance.
Prevention
Prevent constipation by drinking a healthy amount of water daily and adding fiber to your diet if you do not get enough. MayoClinic.com advises that you need about eight to nine cups of water, or more if you are doing dehydrating activities. You need 21 to 25 g of fiber daily if you are a woman or 30 to 38 g if you are a man. Drink the water at intervals and work the fiber into your regular meals with foods such as beans, legumes, vegetables and fruits.