Constipation is one of the most common gastrointestinal disorders in adults, accounting for over 2.5 million U.S. physician visits annually. Initial management of constipation is centered on lifestyle changes — a high-fiber diet, increased fluids and regular exercise. In addition, certain foods or beverages, such as prune juice or dried plums (prunes), are commonly recommended for their laxative properties.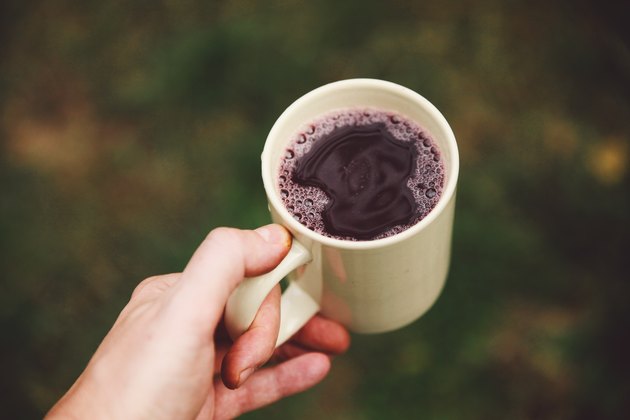 Constipation
Constipation is described as infrequent or difficult-to-pass stools that are dry, lumpy or hard, or a feeling of backed-up stool in the intestines. Increasing fiber intake, by eating more fruits, vegetables, whole grains and beans, along with drinking more fluids, can usually help relieve constipation by softening the fecal contents, and increasing the volume and frequency of bowel movements. Prune juice is commonly recommended and used to counter constipation, but how it helps is more than a matter of fiber.
Prune Juice as a Laxative
At just over 1 gram of fiber per half cup, prune juice is not considered a high fiber food. In fact, prune juice is an extract of steamed, dried plums, also known as prunes, with some of the naturally occurring plum fiber — the skins and undissolved pulp — filtered out.
So, the laxative properties of prune juice aren't specifically linked to the fiber content. It's commonly believed that sorbitol, an incompletely digested sugar alcohol found in prune juice, acts as a laxative by pulling more water into the gut — increasing stool volume and stimulating the bowels to move.
Prune Juice Dosing
Despite its reputation as a laxative, prune juice has not been systematically assessed for its role in treating people with constipation. In part, this is because most of the prune-related research has been completed on the dried fruit, and not the juice.
However, a few trials have found that 8 ounces, or 1 cup of prune juice can function as a mild laxative. One 4-week study of 54 volunteers demonstrated that 4 ounces of prune juice twice daily provided a laxative effect, with increased gas as the only side effect.
Another small study showed 8 ounces of daily plum (prune) juice to be more effective than apple juice or apple juice mixed with psyllium, a natural, commonly used laxative, and that plum juice was as effective as psyllium in providing constipation relief. It's possible, though, that less than 8 ounces prune juice daily may work well for some people with constipation.
Warnings
If you suffer from constipation, changing your lifestyle can help. But if this symptom persists, see your doctor to understand the cause and a management plan, which may include recommendations for laxatives. See your doctor right away if you also have vomiting, blood in your stool, weight loss or a distended, swollen abdomen.
Reviewed by Kay Peck, MPH RD