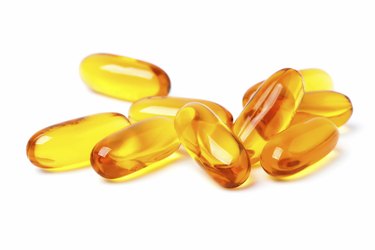 If you're not getting enough omega-3s from the food you eat, you may consider adding an omega-3 fatty acid supplement to your daily routine. Omega-3 fatty acids may help promote heart health, lower cholesterol and reduce pain caused by rheumatoid arthritis. While you might be anxious to get results fast when supplementing your diet, how quickly omega-3s work may depend on the reason you're taking them. Consult your doctor before adding any dietary supplement to your diet.
Omega-3s for Better Cholesterol
High cholesterol affects more than 30 percent of U.S. adults, according to the Centers for Disease Control and Prevention. Taking steps to improve your numbers reduces your risk of heart disease and stroke. While making changes to your lifestyle is important for improving cholesterol, supplementing with omega-3 fatty acids may also help.
According to the University of Maryland Medical Center, it may take two to three weeks for you to start seeing an improvement in your cholesterol after supplementing your diet with the fatty acid.
Taking Omega-3 for Heart Health
In addition to helping lower blood cholesterol levels, omega-3 fatty acids may also help improve other heart disease risk factors, including high blood pressure and elevated triglycerides, according to the medical center.
If you're taking omega-3 fatty acids to improve overall heart health and reduce the additional risk factors as well, the medical center reports that it takes about the same amount of time for the supplement to work as it does for cholesterol, which is two to three weeks.
For Rheumatoid Arthritis Pain
As an anti-inflammatory, an omega-3 fatty acid supplement may help reduce the symptoms associated with rheumatoid arthritis, including pain, stiffness and inflammation. In some cases, supplementation with the fish oil may reduce your need for nonsteroidal anti-inflammatory drugs.
Omega-3 fatty acid supplementation for rheumatoid arthritis does not work as quickly as it does for heart health. According to Arthritis Australia, it may take two to three months before you see any improvements.
Caution With Supplementation
Although a natural substance, omega-3 fatty acid supplements may not be appropriate for everyone. Due to an increase risk of bleeding when taking fish oil supplements, you may need to be cautious about adding them to your diet if you bruise easily, have a history of a bleeding disorder or take blood thinners. Also, if you have diabetes, you should not take omega-3 supplements unless under the supervision of your doctor because they may increase fasting blood sugar.