If you're like most people, your gallbladder goes unnoticed until problems arise. It's a small sac situated beneath your liver that collects bile, or juice necessary to digest fat from your diet. Bile contains a mixture of cholesterol, salt and other substances. Under normal circumstances, when you eat, your gallbladder contracts and bile flows into your intestines. A number of problems can impede gallbladder function. If you have gallbladder sludge, your doctor may recommend avoiding certain foods until your issue resolves.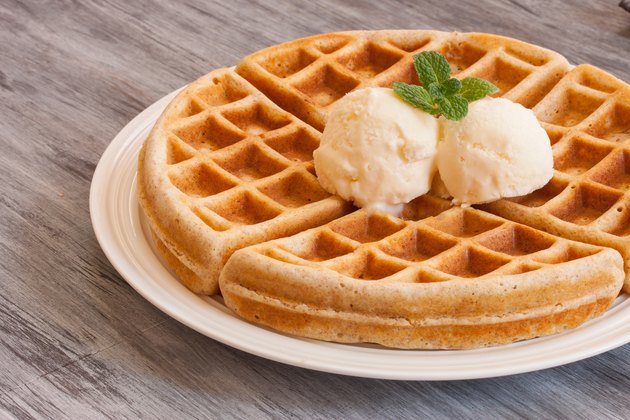 Biliary Sludge
Gallstones play a role in many cases of gallbladder problems. These are crystallized pebbles of bile that form inside the gallbladder. They can range in size from microscopic to over 1 inch in diameter. Biliary sludge is a condition where only microscopic stones and crystals are present. An elevated amount of cholesterol in bile, obesity, lack of physical activity, diabetes and liver problems are some of the factors that increase your risk for gallstones.
Dietary Guidelines
Having gallbladder problems can lower your ability to digest fat without discomfort. Doctors routinely recommend a fat-restricted diet to reduce digestive side effects such as gas, cramping and diarrhea. This type of diet involves limiting your overall fat intake and avoiding foods high in fat. Most gallbladder patients can tolerate about 50 grams per day, according to NYU Langone Medical Center. The bulk of your diet needs to come from vegetables, fruit and whole grains.
Foods to Avoid
Avoid the following fruit and vegetables: avocados, coconuts, olives and anything fried or prepared with butter, oil or sauce. Steer clear of high-fat dairy, fatty or processed meats, seafood canned in oil, nuts and nut butters, cream soups, snack chips, most pancakes and waffles, muffins, scones, cookies, ice cream, high-fat desserts, and pastries in general. These items are red flags also: fried food in general, sweet rolls, cheese bread, biscuits, eggnog, chocolate, most candy, nondairy creamer, milkshakes, high-fat coffee beverages and granola.
Fat-Restricted Diet Tips
Read food labels carefully and choose items that contain less than 3 grams of fat per serving, suggests NYU Langone. Look for options labeled "low-fat" and "fat-free," including low-fat dairy, as well as lean cuts of meat like loin, and trim away any visible fat before cooking. Have whole-grain breads, beans, legumes, fruits and vegetables not on the avoid list, baked chips and unbuttered popcorn. If you crave something sweet, have a few hard candies, jelly beans, flavored gelatin, angel food cake or sherbet.