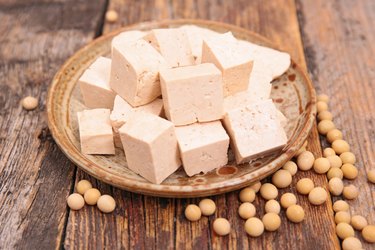 Tofu is a versatile, inexpensive source of plant protein, making it a staple of many vegetarian diets. Also known as bean curd, tofu comes from curdled soy milk that's been drained, pressed into a block and cooled. It's relatively low in calories and contains no cholesterol and minimal saturated fat, especially when compared to most animal sources of protein. As long as you stick to healthful preparation methods, tofu isn't fattening, and makes an excellent addition to any diet.
Nutritional Benefits of Tofu
Purchase tofu in refrigerated packages or in sealed containers that only need to be refrigerated after opening. Choose creamy soft tofu, which has a high water content, to use in sauces, desserts, smoothies and salad dressings. Firm and extra-firm tofu have lower water contents and hold their shape more readily; use these versions for baking, broiling and grilling or cubed in stir-fries.
Soft tofu contains 61 calories per 3.5-ounce serving and contains almost 4 grams of fat, of which half a gram is saturated. It also has 2 grams of carbohydrates and almost 7 grams of protein, and offers 11 percent of the daily value for calcium, 6 percent for iron and 11 percent for folate. A 3.5-ounce serving of firm tofu provides 70 calories, 4 grams of fat -- a little under a gram of which is saturated -- about 2 grams of carbohydrates and 8 grams of protein. It offers more calcium and iron, with 20 percent and 9 percent of the DV respectively, but just 5 percent of folate.
Cooking Method Determines If It's Fattening
Stir-fry tofu with minimal oil and lots of fresh vegetables or blend it into a fruit smoothie. On the condiment side, use it instead of mayonnaise to thicken a salad dressing. All of these preparations complement a diet that emphasizes weight management.
Not all ways of cooking tofu are diet-friendly, however. Fried tofu, which often appears in Asian or vegetarian recipes, brings the calorie count in a 3.5-ounce serving up to 271 and the fat content up to 20 grams, of which 3 grams are saturated. Frying the tofu does reduce the tofu's water content, so the other quality nutrients become concentrated, and you get 17 grams of protein and 37 percent of the DV for calcium and 27 percent for iron.
Using tofu for desserts, such as cheesecake and pudding, may lighten up the calories and fat from the original recipes. But don't forget that desserts may still contain ingredients such as sweeteners, chocolate and added fats that can make them fattening if eaten in excess.
Phytoestrogens in Tofu
Because tofu is made from soy, it contains phytoestrogens known as isoflavones. Similar in structure to the female hormone estrogen, isoflavones are sometimes recommended for women as they enter menopause and their natural production of estrogen slows down. Soy isoflavones may help relieve symptoms related to the reduction in estrogen, such as hot flashes and mood swings.
A diet containing moderate amounts of soy foods such as tofu appears safe, reports the Linus Pauling Institute, but the safety of consuming soy isoflavones in supplemental form for the long term is unknown. The phytoestrogens don't directly cause weight gain; it's other potential associations with breast cancer and endocrine disruption that may be of concern. To maximize the positive attributes of soy foods, choose whole soy foods -- such as tofu -- over those with added soy protein, notes a 2010 paper published in the Frontiers in Neuroendicrinology.
Incorporating Tofu Into Your Diet
Unlike many vegetarian protein sources, such as beans and nuts, soy is a complete protein. This means it contains all the amino acids in adequate ratios that your body cannot produce on its own -- just like meat, eggs, dairy, fish and poultry. Soy, in the form of tofu, can be helpful in supporting muscle growth and repair when consumed post-workout. These positive effects are similar to those of whey protein, reports a review published in a 2009 issue of the Journal of the Canadian Chiropractic Association.
Tofu is virtually flavorless, but it absorbs seasonings, sweeteners and spices. Use it to pump up the creaminess and protein content of a smoothie made with fresh fruit and almond milk; soak it in your favorite meat marinade and serve on a whole-grain bun; or broil cubes seasoned with fresh ginger, soy sauce and scallions to toss into a salad.