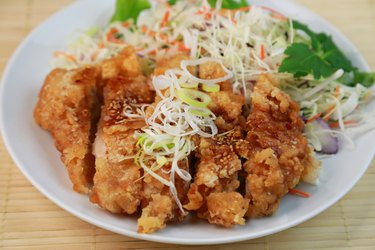 A slightly healthier alternative to deep fried chicken is baked, pan-seared chicken. Searing or pan frying the chicken gives a nice flavor, while finishing off the chicken in the oven cuts back on the amount of fat used in the process. It combines a crispy, golden-brown outside and a moist inside for chicken with a delicious and mouth-watering flavor.
Step 1
Pre-heat your oven to 350 degrees F. Heat enough oil in the frying pan to cover the chicken halfway.
Step 2
Whisk the egg in shallow dish wide enough to lay the chicken flat. Place the flour and bread crumbs in similar dishes. You will need a separate dish for each ingredient.
Step 3
Trim excess fat off chicken breast.
Step 4
Dip the chicken in the flour. Coat the piece of chicken evenly. Shake off the excess.
Step 5
Dip the chicken in the egg. Coat each piece evenly.
Step 6
Dip the chicken in the bread crumbs. Coat evenly. Shake off the excess.
Step 7
Carefully place the chicken in the pre-heated cooking oil. Allow it to brown for two to three minutes before turning.
Step 8
Turn the chicken only once. Allow the second side to brown for two to three minutes.
Step 9
Place the fried pieces of chicken in a single layer in the baking dish. Bake in the pre-heated oven for 20 to 30 minutes, or until cooked thoroughly (internal temperature of 165 degrees).
Things You'll Need
Boneless skinless chicken breast

1 egg

1 cup flour

1 cup breadcrumbs

1/2 cup peanut oil

Frying pan

3 flat shallow dishes

Oven-safe baking dish
Tip
Try using panko bread crumbs in place of regular bead crumbs. Use assembly line approach to efficiently prepare chicken and make clean up easy. Add more flour and/or breadcrumbs as needed. Try mixing various herbs and spices to the flour before coating the chicken. This will give you different flavors.
Warning
Be careful of cross contamination. If you are touching raw chicken with your bare hands, do not touch anything else before washing your hands. Hot oil can splatter and cause serious burns. Place the chicken in the oil gently and in a direction away from you. Use a meat thermometer to ensure that chicken is cooked thoroughly. Consuming undercooked poultry can be dangerous.