Protein tablets are a type of dietary supplement that provides supplemental protein. According to "Harrison's Principles of Internal Medicine," you should consume 0.36 g of protein daily for every pound of your body weight. Medical professionals sometimes recommend protein tablets to patients that do not receive sufficient amounts of protein from their diets. Additionally, bodybuilders and athletes sometimes use protein tablets as an alternative to protein powders and shakes to build muscle. As a dietary supplement, however, you should speak with a medical professional prior to consuming protein tablets.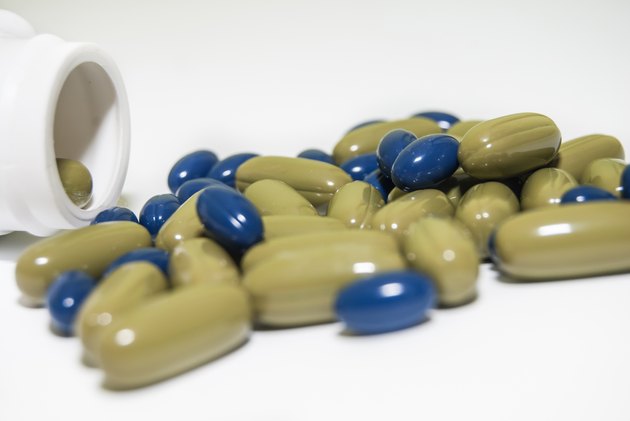 Amino Acids
When you work out, you tire your muscles. In order to repair your muscles from this damage and aid recovery, your body requires protein. Protein contains 20 amino acids that can be divided into two groups. Eleven of the amino acids found in protein are non-essential because your body can naturally produce them, as required. The other nine amino acids are essential, meaning you have to obtain them from dietary or supplemental sources such as fish, chicken, milk, eggs and meats. Supplemental sources of essential amino acids include protein tablets.
Sources
Manufacturers use different sources of protein to produce protein tablets. When purchasing protein tablets, look for tablets produced using a quality source of protein that also provides your body with other essential vitamins and minerals. Good sources of protein found in protein tablets include beef liver and whey protein. Additionally, beef liver and whey protein do not produce unpleasant aftertastes commonly associated with protein tablets.
Intake Recommendations
You should never replace meals with protein tablets and only use this type of supplement in combination with regular meals. Many manufacturers of protein pills recommend consuming these pills prior to a workout to give you extra energy. You should generally wait at least 2 hours after consuming protein pills to initiate a workout. This will give your body sufficient time to digest and properly utilize the protein. You can also take protein tablets immediately after a workout, to help repair muscles.
Protein Shake
You can also obtain supplemental protein by consuming protein shakes. However, protein shakes also contain extra calories not found in protein tablets. Many athletes that want to gain weight will combine protein shakes with an exercise program to promote weight gain. Additionally, because protein shakes contain extra calories, you can also use this type of protein supplement as a meal replacement. You should, however, speak with a medical professional prior to consuming any type of protein supplement.