If your stomach rebels at the acids in coffee, there are several ways to make your favorite brew more tolerable. Calcium-containing products like milk help neutralize acids, but the best way to enjoy coffee doesn't rely on neutralizing existing acids. You can choose beans that are naturally lower in acids, or reduce acidity by changing the type of grind, roast and brewing method.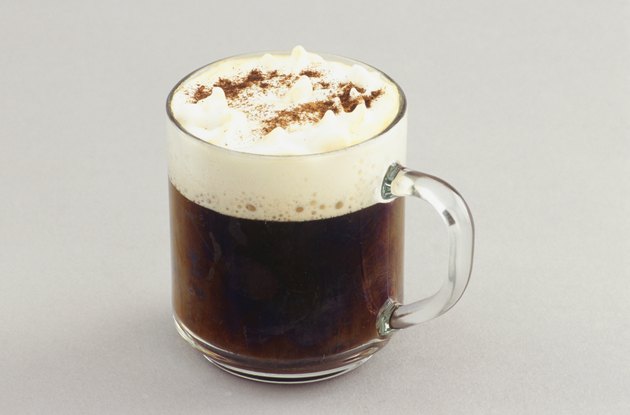 Acids in Coffee
About 30 types of acids have been identified in coffee beans. Many of them are familiar because they're commonly found in other foods, such as citric acid in oranges, malic acid in apples and acetic acid, which is found in vinegar.
The most abundant acids in coffee belong to one large group known as chlorogenic acids. These acids are antioxidants that may help lower your risk of Type 2 diabetes, according to a review in Evidence-Based Complementary and Alternative Medicine in August 2013. Chlorogenic acids are also one of the ingredients in green coffee beans that may support weight loss.
Calcium Offsets Acidity
Calcium is used as an ingredient in antacids because it neutralizes stomach acid. You can get a similar effect in coffee by adding milk or cream. Low-fat milk is the healthiest choice because 1 tablespoon has barely a trace of fat, yet provides a little more calcium than heavy cream or half-and-half.
You can also find a variety of calcium-based products that help neutralize acidity. They're often sold under names related to pH balance, alkaline boosters and acid relief. Some products are flavorless powders designed to be stirred into coffee, while others are tablets that go to work in the stomach after they're swallowed.
Cold-Brewing Reduces Acid
A sure way to reduce the acidity in your coffee is to use a cold-brew process. You may hear it called cold-drip coffee, Kyoto style or Toddy style. This type of coffee is made by allowing ground beans to steep in cold water for at least 24 hours.
Compared to using hot water, cold water extracts less of the coffee's natural acids. As a result, your coffee is about 70 percent less acidic than a typical cup of hot-brewed coffee, according to information from manufacturers.
Differences in Roast, Grind and Beans
Dark roasted coffee beans retain less acid than lighter roasts. The extra roasting time also develops a compound that blocks acid production in the stomach, reports the American Chemical Society.
The size of the grind is usually determined according to the type of coffee maker and how quickly water flows through the coffee. If you have a choice, go with coarsely ground coffee, which has less acid than a fine grind.
Of the two beans primarily found in coffee, arabica beans are more acidic than robusta beans, reports the Kitchn. Coffee beans grown in Brazil generally have less acid than beans from other regions. On the other hand, beans grown at low altitude aren't as acidic as those from a high altitude, no matter where the bean originated.