Psyllium and wheat dextrin have more in common than the differences that set them apart. Even though their sources vary, psyllium and wheat dextrin are soluble fibers, which are commonly sold as over-the-counter laxatives. Both are generally safe, but wheat dextrin contains a small amount of gluten, while psyllium is associated with unique side effects, such as allergic reactions and the potential to swell in your throat if you don't take it properly.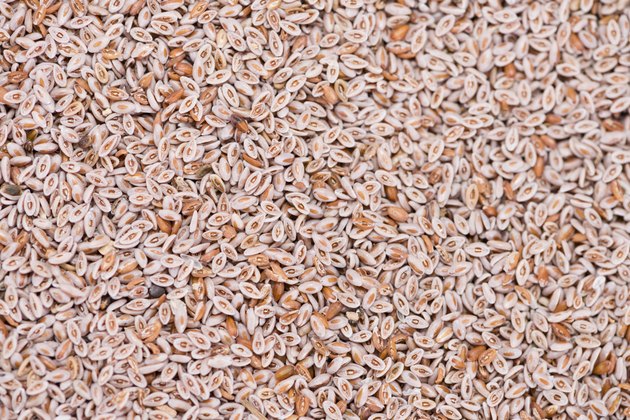 Distinct Sources
Psyllium comes from a plant called Plantago ovata, or blond psyllium. Husks from the plant's seeds are removed and used to produce psyllium fiber. Wheat dextrin is extracted from starch found inside whole-grain wheat. The Institute of Medicine classifies both of them as functional fibers because they're commercially produced and used to make supplements or to fortify foods, rather than consumed as part of the whole food.
Soluble Fiber
Fiber-containing foods have varying amounts of two different types of fiber, soluble and insoluble. Psyllium and wheat dextrin contain only soluble fiber, which absorbs water and becomes gelatinous, after which it binds with cholesterol and carries it out of your body. Soluble fiber also helps prevent a spike in blood sugar by slowing down the rate of digestion and absorption. Psyllium and wheat dextrin are fermented by bacteria in your large intestine, which provides energy.
Used as Laxatives
Insoluble fiber is usually touted for its ability to prevent constipation, but psyllium and wheat dextrin offer the same benefit. Both are used in over-the-counter bulk-forming laxatives, as their ability to absorb water helps make stool larger and softer. Larger stool triggers intestinal muscles to contract and push waste out of your system, while softer stool is easier to eliminate. If you use laxatives, increase your fiber gradually and drink plenty of water to avoid side effects, such as gas and diarrhea.
Side Effects
Wheat dextrin may cause less gas and bloating than other fiber supplements, according to the University of Michigan Health System. While wheat dextrin is well-tolerated, it contains a small amount of gluten and should not be used if you have celiac disease or gluten intolerance. Psyllium causes allergic reactions in some people and could result in breathing problems if you inhale the powder, reports NYU Langone Medical Center. Other side effects specific to psyllium include cramps, nausea, vomiting and skin rash. Be aware that psyllium may swell in your throat if you don't take it with enough liquid. Consult your physician before taking psyllium if you have kidney disease.
Fiber Recommendations
Bulk-forming laxatives are the safest type of laxative, but it's still important to follow the directions on the package and take the recommended amount. You can avoid needing over-the-counter laxatives if you get enough fiber through your diet, which is 25 grams of total fiber daily for women and 38 grams for men. About 6 grams to 8 grams of your fiber should be soluble, recommends the UCSF Medical Center.