Many people suffering from IBS -- irritable bowel syndrome -- either have excess weight around the waist, are frequently bloated or both. If you want to have a flat belly with IBS, the Flat Belly Diet, created by two editors from "Prevention" magazine may help you reach your goal, but you will need to adapt the diet. With IBS, many foods can trigger symptoms and cause bloating, preventing you from having a flat stomach. Learn what your trigger foods are exclude them from your Flat Belly Diet.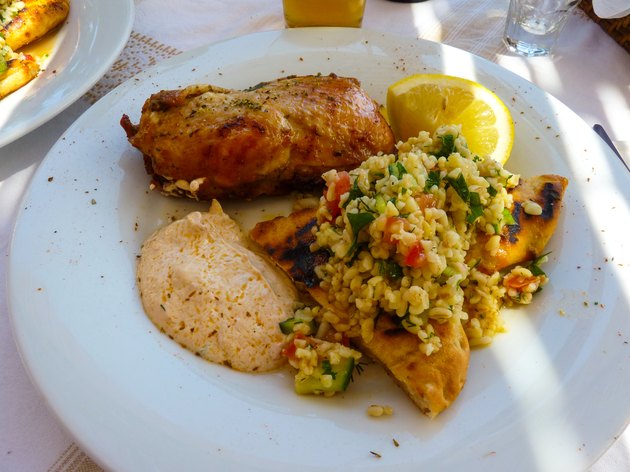 The Flat Belly Diet
The Flat Belly Diet is based on the Mediterranean diet. The original plan recommends consuming about 1,600 calories a day and replace saturated fats with monounsaturated fatty acids -- or MUFAs -- at each meal. MUFAs are the predominant fat on the Mediterranean diet and a study suggests that using MUFAs instead of saturated fat could promote more fat loss even if eating the same amount of calories, as published in the 2003 issue of the "British Journal of Nutrition." You can find MUFAs in olive oil, flaxseed oil, walnut oil, sunflower oil or pesto sauce as well as in olives, nuts, seeds and their natural butters and dark chocolate. The rest of the diet should be based on plenty of seasonal fruits and vegetables, whole grains and limited red meat.
Vegetables
Some vegetables can be problematic for IBS sufferers. Although you should eat plenty of vegetables on the Flat Belly Diet, eating the wrong vegetables could make you bloated and prevent you from having a flat stomach. Avoid vegetables that you know don't agree with you. The most problematic vegetables for most people with IBS include windy vegetables, such as cabbage, broccoli and Brussels sprouts, vegetables containing fructans, which include onions, garlic and artichoke, as well as polyol-containing vegetables, such as cauliflower, mushrooms, avocado and sweet potatoes.
Fruits
Some fruits could also pose problems for IBS sufferers following the Flat Belly Diet. Eliminate fruits that you know cause your bloating or other IBS symptoms. For example, most people have troubles with apples, pears, watermelon, mangoes, cherries, blackberries, peaches and nectarines as well as dried fruits and fruit juices.
Whole Grains
Many whole grains can be irritating for your sensitive gastrointestinal tract if you have IBS. Stay away from whole grains foods that you do not tolerate well even if they are recommended on the Flat Belly Diet. For example, wheat and rye contain fructans, which can give you diarrhea, constipation and a distended stomach. Choose brown rice, quinoa, millet, spelt and oats instead, but assess your tolerance with small amounts first.
Nuts and Seeds
The Flat Belly Diet recommends eating nuts to get MUFAs, but some people with IBS are sensitive to nuts, seeds and their butters. Consume only the nuts and seeds that you know you can handle. Alternatively, you can also soak nuts to make them more digestible and help you eat MUFAs without bloating.